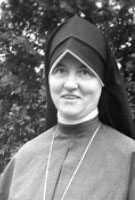 Sister M. Dolorita Heaney, MM
Born: July 29, 1896
Entered: September 24, 1922
Died: July 7, 1985
This morning, as we gather here in worship and celebration, our hearts are once again filled with awe and gratitude for God's precious gift of life to each one of us – and, in a very special way today, for the fullness of Life that our Sister M. Dolorita Heaney now enjoys.
Marguerite M. Heaney was born on July 29, 1896, the fifth in a family of nine children: three brothers and six sisters which include our Sisters Mary Bernardine and Mary Laurentia, who are here with us today. Their parents, Hugh Heaney and Elizabeth McGuinness Heaney, came from Ireland and settled in Brooklyn, New York, where all their children were born and grew up.
Marguerite attended St. John Evangelist School, Manual Training High School and St. Joseph's Commercial High School where she completed her secretarial training. After graduation, she worked as secretary to Mr. J. J. Schubert of the Schubert Theatrical Company, famous for its musical comedies. Her sister, Helen, also joined the company as secretary to the General Manager. It was through this office that Marguerite and Helen were invited to attend a Novena to Our Lady of Perpetual Help at the Redemptorist Church on 59th St., Brooklyn, where they met Fr. Raymond Sercu, CSSR. He was instrumental in introducing both of them to the Maryknoll sisters. In Father Sercu's letter to Mother Mary Joseph dated July 1, 1922, he recommended the two sisters as "both earnest, devout and zealous, anxious to devote their lives to God in the foreign missions."
On September 24, 1922 both Marguerite and Helen joined Maryknoll. Their sister, Alice — through her visits — also became interested in Maryknoll and entered the Congregation on October 15, 1925; she is now Sister Mary Laurentia. At their formal Reception, Marguerite received her religious name: Sr. Mary Dolorita; and Helen was given the name Sister Mary Bernardine.
While still a novice, Sister Dolorita worked in Bishop James Anthony Walsh's office where she helped in typing the mission diaries. Her interest and desire for mission and Maryknoll grew. On April 30, 1925 she made her first profession of vows, and later that year she was assigned to China.
On January 20, 1926, Sister Dolorita — in company with Sisters Mary Lumena and Mary Paul McKenna — left Hong Kong to help prepare the first mission in the Philippines. They oversaw the remodeling of the Augustinian Convent in Malabon for the future Normal School. Sister Dolorita returned to Hong Kong in July of that year and continued her work there until October, 1927, when she was assigned to St. Paul's Hospital in Manila. During her 11 years in the Philippines she made many good friends, some of whom kept in close contact with her up to recent times. In a letter to Mother Mary Joseph in 1936, she confided her "desire for the Cloistered life" which her confessor discouraged. She wrote, "It was a sacrifice that I wanted to make taking into consideration the persecutions of the Church in the different countries, the pride and the independence of nations and individuals, and the fact that by that sacrifice I might be able to make some reparation for the awful sins that are committed everyday…" Sister followed the advice of her confessor as she wrote to Mother Mary Joseph, quoting St. Therese the Little Flower, "'God has no need of our works; He wants our love' – and we can give Him that love as truly in the active as in the contemplative world." And she concluded her letter, "A good live Saint right here at St. Paul's Hospital would not be a bad idea so I shall try to be just that!" And, no doubt, that's what Sister Dolorita did – all her life!
Then, in 1938, she was appointed superior of a new mission in Kyoto, Japan, where she remained until World War II, and was among the Sisters interned for more than a year. With others of her Maryknoll Sisters, Sister Dolorita was repatriated in 1943 and returned to the States on the M.S. Gripsholm.
In the succeeding years, Sister Dolorita continued to work faithfully and cheerfully for the missions in various ministries: as a Promoter, a CCD teacher, and secretary at Queen of the World Hospital in Kansas City and in various offices both here at our Maryknoll Sisters Center and at the Maryknoll Seminary. She also served on the Regional Governing Board of the Senior Region from 1970 to 1974.
In January, 1982, Sister Dolorita had received treatment for an illness and her failing health prevented her from further active work. During the time of her illness, she always had the comfort of having Sister Laurentia nearby. A few weeks ago, when her strength began to decline rapidly, Sister Mary Bernardine came from Monrovia, California to be near her. And both were nearby when Sister Dolorita died peacefully at the Maryknoll Nursing Home at 07:45 p.m., on July 7th, 1985.
We welcome and offer our sympathy to Sister Dolorita's family and friends.
We also welcome Father John Halbert, M.M., and Father Robert Sheridan, M.M., who will concelebrate now this Eucharistic Liturgy of remembrance and thanksgiving.