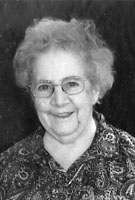 Sister M. Edwina Sullivan, MM
Born: November 15, 1909
Entered: October 15, 1929
Died: September 26, 2003
This morning, we gather as a family to celebrate Sister Edwina Sullivan's entrance into new life. Accompanied by her sister, Catherine and our Sisters and staff in our Residential Care, Sister passed away peacefully on Friday, September 26, 2003. She was ninety-three years of age and had been a Maryknoll Sister for seventy-four years.
Eleanor B. Sullivan was born in Somerville, Massachusetts on November 15, 1909 to Agnes (Killion) and Edward P. Sullivan. She was one of eight children. She had three brothers and four sisters, one of whom is our own Sister Catherine Rita. In 1928, after graduating from St. Joseph's High School, Eleanor worked as a sales clerk in Somerville, Massachusetts. She entered Maryknoll October 15, 1929 and at Reception, received the religious name of Sister Edwina, which she retained the rest of her life. She made her First Profession of Vows January 6, 1932 and Final Profession on the same date in 1935. Both ceremonies were at Maryknoll, New York.
Although her desire in entering Maryknoll was to serve God in Foreign Mission, it would be fulfilled by working here in the United States. She helped to make the mission work of Maryknoll known to American Catholics through her clerical work at The Field Afar from 1929 to 1945. Sister continued to offer her gifts and talents to the community wherever and whenever they were needed—cheerfully and happily. From 1946 to 1969, she served the Community in various places, such as: Seattle, Monrovia, Los Angeles, Boston Chinatown, at St. Teresa's, as well as here at the Center; also in our novitiates both in Valley Park, Missouri and at Ladycrest in Topsfield, Massachusetts. She was also involved in family ministry taking care of her mother. In 1970, she returned to Maryknoll and was employed as a clerk for twelve years at the Maryknoll Post Office.
At the time of her retirement from the post office, Sister Regina McEvoy expressed well Sr. Edwina's contribution to Maryknoll. "All these years you so generously did the big and little things that bring joy to others. I know many times the work load was very heavy with appeals, sponsors, Christmas, etc., but you never complained or burdened others with your difficult position. Your extra daily carrying of the morning mail for the Sisters to the post office so their mail would get out early that day was a service and kindness greatly appreciated. Not even to mention all the cold, bitter days that you had to walk back and forth to work. I could go on and on and try to list all the things we should thank you for but that would be impossible. Just know that you are loved and appreciated always."
Sister Edwina went to Monrovia in 1983 and while there, she dedicated herself to serving the Sisters by distributing mail, keeping stamp supplies and helping mail out the newsletters to the local Guild.
In 1995, she was asked to reflect on her Maryknoll life and how God and the people had touched her life over the years. The essence of the woman she had become is reflected in her statement: "The love shared by my Sisters and concern we have for one another is very special. The love the novices at Valley Park shared with me when I crushed my hand in the mangle always reminded me of God's love. I did not have any special work in mind. All work was enjoyed fully. The changes and growth in Maryknoll have broadened my outlook on mission and my vocation. Living my daily life at Maryknoll in praise of Him is what I treasure most and makes up the essence of our missionary life and what makes it all worthwhile."
Due to failing health and needing more assistance, Sister Edwina was assigned to our Maryknoll Center in Assisted Living in 1997. She accepted her illness and sufferings with great courage and wisdom.
Throughout her life, Sister Edwina was concerned about her family and always kept in touch with them. We offer our condolences to the members of Sister's family who are with us today, her sisters, nephew, and her grandnephews. We also offer our condolences to our Sisters in Taiwan for whom Sister so faithfully prayed. We know Sister Edwina will be missed by each one of you. We assure you of our prayers, that you find comfort in knowing that Sister's sufferings are over and she is now with her God whom she served and loved so well. She knew the Lord was her Shepherd and had nothing to fear, because she experienced God's love for her.
We also wish to express our gratitude to all the staff of our Maryknoll Residential Care for their kindness and goodness to our Sister Edwina.
We welcome our Maryknoll brother, Father Carl Meulemans, who will preside at this Liturgy of Christian Burial.