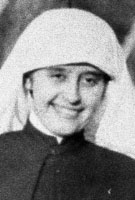 Sister M. Emmanuel Donahue, MM
Born: August 17, 1900
Entered: September 8, 1921
Died: May 9, 1923
Sister M. Emmanuel Donahue died on May 9, 1923. She was 22 years old and a Maryknoll Sister for one year.
Catherine (M. Emmanuel) was born on August 17, 1900 in Jersey City, New Jersey to Sophia (Ehlinger) and Joseph Francis Donahue. She had four brothers and two sisters. Catherine attended eight years of grammar school at St. Bonaface's Perochial School. Her occupation prior to entering Maryknoll consisted of clerical work. Catherine's interest in a missionary career was sparked by coming in contact with the Dominican Sisters while at Maryknoll, New York. After this encounter, she began to feel that becoming a religious was her vocation. On September 8, 1921 Catherine entered Maryknoll and took the name Sister M. Emmanuel.
After entering, Sister M. Emmanuel began her formation. However, before completing her formation, Sister became ill and died on May 9, 1923. Our thoughts and prayers are with her, as we know hers are with us in heaven.