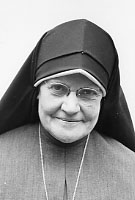 Sister M. Espiritu Venneman, MM
Born: March 1, 1896
Entered: September 24,1923
Died: July 21, 1983
Today we celebrate the life of Sister Mary Espiritu Venneman, whose longing to give herself is now fulfilled and she joins what she calls "the triumphant Maryknollers obtaining many blessings for us." As we celebrate today's liturgy we are mindful of her own strong devotion to the Blessed Sacrament and mindful also of her beloved Maryknoll Sister Clara who was so devoted to her.
Sarah Cecilia Venneman was born in Dawson, Illinois, 87 years ago on March 1, 1896. Her parents, Leonard and Minnie Venneman, had 4 daughters and 1 son. They worked hard and instilled in their children a love of God and neighbor.
Cecilia attended Dawson High and Sacred Heart Academy, and then went on to St. John's School of Nursing, where she received her RN in 1923. Her desire to work for the poor was fulfilled when she was accepted into Maryknoll in September, 1923. Shortly after, she went to the Venard for her postulancy. On April 30, 1926, she made her first profession, and was assigned as the nurse at our Bethany Guest House. Her desire for mission overseas was soon realized when, in 1927, she was sent to St. Paul's Hospital in Manila, where she worked on the medical ward as a nurse, always aware that she was there as a missioner spreading God's love.
After 8 years in the Philippines, Sister Espiritu was assigned to Shanghai in 1938 where she learned and applied new nursing skills in the psychiatric hospital there. She also managed to learn the difficult Chinese dialect of the area and spent many hours with the patients, talking to them of God's love. The pleasant memories she had of those years in Shanghai were over-shadowed by the horrors of war. She described, "…houses all around us were being bombed and Shanghai was enduring a blood bath," but she felt "God's protection was evident" and the Sisters continued their work in the hospital until the conflict passed on to Nanking.
In 1938, Sister again conquered another language, this time, Korean, in Shingishu. When war rumors once again threatened the work it seemed wise for the Sisters to return to the U.S. Sister Espiritu reflected at the time, "in peace or war, famine, danger, in strange lands, God is ever present and assists us in our fields of labor…."
Her new field of labor was San Juan Bautista where she assisted the Spanish-speaking people with her nursing skills. Another language was added to her list and another group of people; but she felt that "no matter where you are, there are always good people (and) you really love the people when you're with them." She gave herself whole-heartedly to anyone in need of her services at the old San Juan Bautista Mission; and for a few years also she devoted herself to the patients at our then Monrovia Tuberculosis Sanatorium.
When the clarion call came in 1949 for our Sisters to go to Ceylon, once again we see the spirit of Sister Espiritu take off with the group going to work in the Government Hospital in Kandy. No active speaking of the Word of God was allowed by the Government, but Sister said, "the silent apostolate is fruitful and many contacts are made." She loved Ceylon and remembered her time there with affection for the people.
In 1957, her nursing arts were needed at our own Bethany Convent where she showed care and devotion in serving the needs of her own Sisters who were ill and resident there; and again at St. Teresa's where she was assigned as House nurse.
A joyful time for both Sister Espiritu and Sister Clara took place in 1960 when they were able to visit their 91 year old mother, who hadn't seen them together in 37 years. It was the first time they were on home leave together.
In 1974, Sister Espiritu wrote: "I speak for myself of the opportunities which venerable age brings – in a somewhat limited capacity due to aging and handicaps, there is a wealth of holiness and prayer power evoking to God that brings blessings to Maryknoll and the missions… a powerful intercessory plant for the poor people of the world."
On July 21, 1983, Sister Espiritu went quietly to her loving, ever-faithful God, while her beloved Sister Clara was close by praying with her. Her wish "to give up all and serve God as he wills" is fulfilled now after 60 years of devotion and love. At this celebration of her life, we join our prayers together with Sister Clara and their other sister, that "God's loving providence may guide us all the way till he brings us safely home to him!"
We welcome and are happy to have with us Rev. John K. Halbert, M.M., celebrant of our Eucharistic Liturgy this morning, assisted by the Rev. Francis J. Winslow, M.M., and Rev. Joseph R. Lang, M.M.