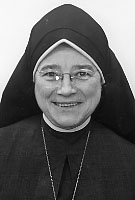 Sister M. Esther Coveny, MM
Born: October 20, 1902
Entered: August 3, 1922
Died: March 31, 1982
"I have run the way of thy commandments." (Psalms 119:32)
The words of this quotation from the Psalms are true of Sister Mary Esther Coveny literally and figuratively. Her faithfulness was something complete and wholehearted and her responses to what she felt was the will of God were instant. Literally, Sister rarely paced her steps; she breezed along at a run always. When her she became ill, a year or so ago, she knew she had to slow down. When one would meet her, going from place to place, she would laugh and forestall any comment by saying, "I know I have to walk, not run" – and she would try, for a few steps.
Clara Teresa Coveny was born in Ontario, Canada, on October 20, 1902, the youngest child of Daniel and Elizabeth Coveny's five children. Clara attended high school in Wallaceburg, Ontario and The Pines, in Chatham, Ontario. After two years of college at Brescia Hall, London, Ontario, Clara Teresa entered Maryknoll on April 3, 1922. She received her religious name "Sister Mary Esther" at Reception time, and made her first profession of vows on April 30, 1925. From 1925 to 1927 she completed work for her B.A. degree at the College of Mt. St. Vincent in New York. Following graduation, Sister Mary Esther was assigned to Manila where she made her Final Vows on April 30, 1928.
Sister's time in mission overseas was cut short when she contracted an illness and had to return to the U.S. where she became a patient at Maryknoll Sanitorium in Monrovia. Later, when she recovered, Sister Mary Esther went to our Los Angeles house and filled the office of Superior there from 1949 to 1952. She then spent two years at St. Bernard's Convent in St. Louis, Missouri, but ill health forced her to return to California where, except for a few brief visits east, she remained until she died, March 31, 1982.
Sister Esther's mission life was spent mostly in the U.S. She literally spent her life helping people, whether it was her Japanese friends for whom she had cared in the Los Angeles Orphanage and whose names she never forgot, or former patients of the Sanitorium with whom she never lost contact; or members of the Maryknoll Guild. Her beloved Guild members came to her with all their plans, cares and worries, and always found sympathy, encouragement, and prayerful help. In her later years, many hours of her days were spent with the ladies and many hours at night found her talking to them on the phone.
Sister Esther's life was balanced with creative interests and hobbies, one of which was a very respectable stamp collection which she knew would benefit the Community some day.
Late in 1980, Sister Mary Esther became ill. On January 25th, she underwent surgery and had to take things easier. She never fully recovered from this and when her condition worsened, Sister was scheduled to come to New York to be a patient here in our Maryknoll Nursing Home. This move would have been very difficult for Sister Esther as she would have had to part from her many, many friends. However, God had his own plan. On March 31st, Sister attended the 7:30 a.m. Mass at Monrovia. The Sisters noticed that she did not look well. Later during the morning Sister's condition worsened and whe was brought to Santa Teresita Hospital where she died shortly after 7:00 in the evening.
The Sisters who knew Sister Mary Esther well, and all her many friends will miss this warm, lively, beautiful person, but we know she is in God's loving care and we can envision her running straight into His arms.
We offer sympathy to her family and friends.