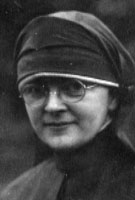 Sister M. Eustace Kenzel, MM
Born: March 15, 1895
Entered: February 1, 1921
Died: March 11, 1965
Sister Mary Eustace (Ada Virginia Kenzel) was born in New York City on March 15, 1895. She was one of three children. Her father died when she was three years of age, and Ada, being the older daughter, became the comfort and support of her mother. At the age of fifteen she studied dressmaking, designing and household arts, with the thought of becoming a professional designer. However, God had His "design" for Ada, and she entered Maryknoll, February 1, 1921. She was professed April 9, 1923. For several years she conducted a department of ceramic art and metal craft as one of the revenue producing works of the Congregation.
Sister applied herself conscientiously to the opportunities offered her for study, and in 1937 her efforts were crowned by her receiving a Bachelor of Arts Degree from Manhattanville College. Her dream of becoming a teacher was realized when she was assigned to Los Angeles in 1937.
Sister Mary Eustace returned to Maryknoll in 1942, and from that time until her assignment to Guadalupe, in 1963, she lived out faithfully her conviction, expressed to Mother Mary Joseph many years previously. "God willing, I feel that I can do any kind of work you choose for me." And, so, she served God faithfully in the kitchen at the Motherhouse, at the Seminary and St. Teresa's.
Sister rejoiced at her assignment to Guadalupe in 1963. She was returning to her mission region, and looked forward to the joy of serving her Sisters in a small house – relieving them of time consuming household duties so that they might dedicate all their time to the catechetical work.
Sister's apostolate this past year has been one of patient suffering, which has prepared her well for her final assignment to heaven.
The funeral will be from Monrovia, on Saturday, March 13.