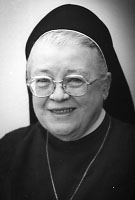 Sister M. Evangelist Clarke, MM
Born: December 19, 1900
Entered: October 14, 1925
Died: September 11, 1999
Today we celebrate the mystery of the living, dying and rising of Sister Mary Evangelist Clarke. Sister Evangelist's long and grace-filled life was a wonderful gift from God and we here at the Center have been particularly blessed to have Sister among us for so many years. On Saturday, September 11, 1999, at approximately 7:20 in the morning, Sister Evangelist died peacefully in the Residential Care Unit at Maryknoll, New York where she was admitted in March of this year. Sister was one of the elders of our Community, in her 98th year of life and in her 74th year as a Maryknoll Sister.
Susanna Felicita Clarke was born December 19, 1900 to Susanna Muldoon and Michael Clarke. Her parents immigrated to the U.S. from Ireland and settled in New York City where Susanna was born and raised. Susanna was the youngest of seven children – four girls and three boys. She received her early education at Our Lady of Sorrows Grammar School in Corona, Long Island, New York, and at Flushing High School in Flushing, New York. After attending St. Teresa's Commercial School, she worked for Durant Motors and Linde Air Products in Long Island City for three years.
At the age of twenty-four, Susanna applied for admission into Maryknoll and entered on the 14th of October 1925 at the Venard in Clarks Summit, Pennsylvania. The Community was still relatively new and small. Twenty-one women entered with Susanna and there were 124 Professed Sisters in the entire Community. The year she entered Mother Mary Joseph began to give a series of weekly talks to the Sisters in early training which were known as Morning Talks for Benjamins. In these talks, Mother focused on religious life and the missionary vocation. In her first of these morning talks, Mother complimented the Sisters in training on their spirit of service in these words: "You have come here and you have expressed your willingness to do whatever you are called upon to do. You have done it beautifully. I hear everywhere words of commendation, that you have entered so simply, so readily, and with such a generous spirit into every work, no matter how different it was from what you have had to do at home." These words of Mother Mary Joseph – simply, readily, generously – so fittingly describe the spirit in which Sister Evangelist entered into her work in the service of mission and Maryknoll throughout her life.
At Reception, Susanna received the religious name of Sister Mary Evangelist. She made her First Vows April 30, 1928 at Maryknoll and her Final Vows on the same date, in 1931, in Seattle, Washington.
Sister Evangelist was assigned to Seattle, Washington shortly after her First Profession. Seattle, which was the very first mission of the Maryknoll Sisters, was opened in 1920 in response to the needs of the Japanese community newly arrived in the United States. Bishop O'Dea was concerned about the pre-school children of Japanese immigrants because both parents had to work in order to make ends meet so he invited Maryknoll Sisters to open a kindergarten. Sister Evangelist was deeply happy being with the Japanese-American children who were placed in her care. After working in Seattle for three years, Sister Evangelist was assigned to the tuberculosis hospital staffed by Maryknoll Sisters in Monrovia, CA where she worked in the office. In 1935, she went to the Junior Seminary in Mountain View, CA where, once again, her clerical skills were called upon. Returning to Monrovia for the second time in 1937, Sister undertook a new ministry and spent the next six years providing nursing care for the many patients suffering from  tuberculosis. She also accepted the responsibility of being the sacristan.
From 1943 to 1957 Sister worked at the Post Office and at the Reception desk at the Maryknoll Sisters Center and later at Bethany. She then returned to do office work in various offices at the Center and, in 1970, at the age of 70, began working in the Treasury Department where she worked faithfully and diligently for the next twenty-three years.
Sister's years in the Treasury Office are remembered with joy and gratitude by many. Recalling her days in Treasury when she worked closely with Sister Evangelist, Sister Regina Pellicore, former Congregational Treasurer, describes Sister as a "very, very wonderful person with a good mind and quiet wit." Sister was asked to do work involving bank deposits in which precision and attention to detail were required. For many people this would make the job seem very tedious but Sister Evangelist put her whole heart and soul into it as she saw it as her contribution to her Maryknoll Sisters and to mission. In all the thousands of deposits she prepared to send to the bank, Sister set a record by always doing it correctly thus sparing everyone's time and nerves.
At the age of 93, Sister Evangelist retired from her work in Treasury and Sister Teresa Dagdag, member of the Central Governing Board and liaison with Treasury wrote to her:
"I just learned that you have finished your work in the Treasury Department after 23 years of faithful service in various capacities. Thank you very much for your dedication and help in this very important work of the Congregation.
All of us on the Central Governing Board wish to express our deep appreciation of your fine contribution to mission over the years. Our prayers and love are with you as you enter this new phase of your life in Maryknoll."
Sister Evangelist's deep devotion to Mary was evident in her membership in a number of Marian Prayer Groups that met in the Ossining area. On Monday evenings, a group met together at the home of Jean Dunster to pray the Rosary together and then socialize as they enjoyed the meal that followed. At the age of 96, Sr. Evangelist attended a three-day Marian Conference in Rochester, New York and stayed with David and Mary Hoysic.
The nurses on Assisted Living remember Sister Evangelist as feisty, very independent, mentally alert, very pleasant and non-complaining. They were glad to see that her family came regularly to visit her and that she truly enjoyed their visits.
On the occasion of her 70th Jubilee as a Maryknoll Sister, Sister Evangelist received many cards from our Sisters and in them the Sisters spoke to her of the joy and faithfulness that she manifested in living the Gospel day by day. The Sisters wrote:
"I have memories of your smile, your service here at the Center and your enthusiastic participation right up to this day of your 70th anniversary. Thanks, Sister Evangelist – you're well named!"
"I never did learn to do the bank deposits as fast and as accurately as you did them. You are better than any computer!"
"I will always remember you as being so accepting and patient during times of illness – always with a thank you and a smile."
"I fondly remember you as a woman of prayer! Gracious and kind! Joyous and peaceful!"
"I remember your fondness for ice cream. Most of all, I admire your quiet devotion to work and prayer."
"You are very special and it's a joy to meet you and exchange laughs."
"Thank you for the wonderful example of 'Growing lovely -growing old'."
"If only I could grow old as gracefully as you I would indeed feel blessed. And to have worked into your 90s. You are a wonder!"
Today we gather to thank God for the life of Sister Evangelist – whose faithfulness, generosity and tireless devotion in the service of mission are an example to all of us.
We again welcome and offer our loving condolences to Sister Mary Evangelist's family and friends. We also welcome our Maryknoll brother, Father Stephen Wood, who will preside at this Eucharistic Liturgy of Christian Burial as we join together in thanksgiving for the life of our Sister Mary Evangelist.