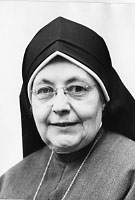 Sister M. Fabiola Gonyou, MM
Born: August 21, 1899
Entered: April 5, 1929
Died: September 10, 1981
Again, we meet in prayer for and remembrance of a Community member who has passed through death to life. Sister Mary Fabiola Gonyou died at Santa Teresita Hospital, near Monrovia, on September 10, 1981. The Mass of the Resurrection was celebrated at Monrovia on September 11th, and Sister is buried at Queen of Heaven Cemetery, next to Sister Pamela Beans.
Sister Fabiola had been an active member of the Monrovia community until she became suddenly ill, about three weeks before her death. Her sisters, Violet and Mary, had come to be with Sister when her illness was determined to be critical, and remained near her.
Kathleen Davis Gonyou was born in Oconto, Wisconsin, on August 21, 1899, the daughter of George William Gonyou and Anna Davis Gonyou. Kathleen attended parochial school in Oconto. Her family moved to Spokane, Washington, where she graduated from Holy Names Academy, Spokane School of Business and Kinman's School of Accountancy. Kathleen entered Maryknoll on April 5th, 1929. At Reception she received the name, Sister Mary Fabiola, and made her final vows on June 24, 1934, in Dairen, Manchuria.
Sister Mary Fabiola's life in mission was long and varied. Her fine training in business and accounting was combined with natural gifts and skills and, most importantly, with a willingness to put herself at the service of others. Those who knew her from her early years in mission speak of her efficiency in business matters and of her desire to do direct evangelization. She seems to have accomplished both well.
Sister was assigned to Manchuria in 1933, and was interned in Dairen in December 1941. She was among those Sisters who were repatriated in December of 1943. During the years 1944-1948 Sister was at Maryknoll, New York, in service to the Maryknoll Fathers. In 1949 she was assigned to Hawaii. From 1964-1974, Sister Fabiola served in mission U.S.A., including Bethany, Valley Park, Topsfield, Houston, and Corpus Christi, Texas. She joined the Monrovia community in 1974.
Those who knew and remember Sister Fabiola well, speak of her as a simple, gentle, loving woman, whose presence was always a gift. They tell of a delightful sense of humor. There are memories of her struggling to speak Mandarin so that she could relate to and instruct the children, in what was then called Manchuria; of her faithfully serving in the business office; of her teaching COD (Christian Doctrine Classes) in Hawaii and Texas; of her happily helping in the laundry in Monrovia until the day she became ill.
As I listened and learned more about Sister Mary Fabiola from those who knew her and lived with her, one thing that came to my mind was a conference given by Mother Mary Joseph, in which she used the image of various kinds of flowers to describe people. Mother related how some Sisters make her think of petunias – "They flourish so simply with such little attention."
As we remember Sister Mary Fabiola in prayer we give thanks for her life among us, and for our faith that she lives among us still, in the power of Jesus' Resurrection.
"The miracle of her paschal life gives courage to many, and shows that friendship in the Lord can grow only if we accept with thanks all that life offers." (MSIM)
We extend our sympathy and our prayer to Sister Mary Fabiola's family and friends.