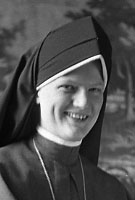 Sister M. Francis Leo Dixon, MM
Born: November 7, 1924
Entered: September 6, 1944
Died: June 16, 1955
Sister Mary Francis Leo (Mary Ruth Dixon) died on June 16, 1955 in Manila, Philippines, after months of suffering.
As Mary Ruth Dixon, she was born in Chicago November 7, 1924 and attended Catholic grammar and high schools there, and did general clerical work until her entry to Maryknoll in September 1944.
As Sister M. Francis Leo she was professed in March, 1947 and graduated from MTC in 1950.
In August of 1950 Sister left for her assignment to the Philippines. By 1953 Sister became seriously ill, and when her condition became worse in 1954, she received treatments in Manila. Sister died June 16, 1955, a holy and serene death. We can all be proud of her beautiful resignation and reliance on our Heavenly Father's care of her.
Such suffering so patiently born must have won an early enjoyment of the Beatific Vision.
Father gave absolution and said the prayers for the dying; but he had to leave, as many students were fasting and waiting for Mass. After Mass, Father returned and said the prayers for the departing soul. She breathed her last at 10:25 a.m. There was little struggle and she had a very peaceful death.
Sister had a special devotion to the Sacrifice of the Mass. Many of her former students came to pay their respects. Some of them referred to the fact that Sister had given them a deeper appreciation for the Mass than they had had before, and a greater love for souls.