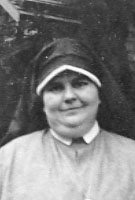 Sister M. Gertrude Moore, MM
Born: December 19, 1886
Entered: October 24, 1920
Died: August 21, 1923
Sister M. Gertrude Moore died unexpectedly in Yeung Kong, China on August 21, 1923. Sister Gertrude, formerly Miss Sarah Moore, of New York City, was a registered nurse. She entered the Foreign Mission Sisters of St. Dominic, at Maryknoll on October 12, 1920. After her profession she was sent with the second group of Maryknoll Sisters who sailed to China in October, 1922.
At Hong Kong, Sister Gertrude was assigned to the new mission of Yeung Kong. Here she was winning her way into the hearts of the people, helping them daily in their poorly equipped dispensary and visiting in their homes those who could not get to her, when she contracted typhoid fever which ended in her death.She was buried in Yeung Kong.She had only been in China for ten months. In that short time she worked in the Sacred Heart Dispensary where she spent the mornings caring for from fifty to a hundred people daily.
Father Francis X. Ford administered the last rights, after which he went down the Yeung Kong River in time to bring back some of the Sisters so that at the funeral the next morning there would be three Priests and three Sisters present at the little Catholic Cemetery outside the walls of Yeung Kong. Father Taggart sang the funeral Mass while three Sisters formed the choir. A solemn Requiem was celebrated in the Hong Kong convent Monday morning at which a Maryknoll community of 20 Sisters, Priests and Brothers were present.
Sarah Moore was born in New York on December 19, 1886. Her parents were George Moore and Sarah Baku. She attended grammar school in New York City and Hunter College high School for one year entered Jersey City Hospital Training School for Nurses, graduating in 1919. She was a registered nurse.
Sister made her final vows on August 4th in Yeung Kong and went to bed that day with a high fever, thought to be malaria. Three days before she died, it was discovered to be typhoid.
Sister was sweet and amiable to all. Her smile was perpetual and her patience most remarkable. Her patience was often tried, for she knew scarcely any Chinese and was obliged to convert her patients to the "western" medicines. She was a true religious and a first class missioner. She never thought of herself but loved god with her whole heart.