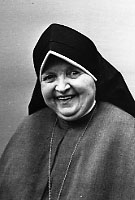 Sister M. Ignatius Quigley, MM
Born: September 26, 1885
Entered: March 25, 1920
Died: March 5, 1962
In Mother Mary Colman's letter of February 15, she told us of her anxiety to see Sister Mary Ignatius before leaving for her Visitation of the houses in the Hawaiian and Marshall Islands – and of her delightful visit with Sister, who, despite her serious condition, was quite perky and at that time, in very good spirits. We are so happy that Mother had this visit, for she knows how ready Sister Mary Ignatius was to meet her God when she went Home to Him yesterday afternoon around twelve o'clock.
Sister Mary Ignatius, Mary C. Quigley, was born in Philadelphia on September 26, 1885. She attended St. Charles Elementary School, and Cathedral High School in Philadelphia, and then took a one year special course in bookkeeping at St. Joseph's College. Mary worked as a bookkeeper for fifteen years before entering Maryknoll on March 25, 1920. Sister Mary Ignatius made her first profession on August 4, 1922, and in April of 1923 she was assigned to our Convent at the Venard, and then to the West Coast, where she spent thirty—five of her forty years of religious life serving God in our missions in California.
In 1934 Sister Mary Ignatius entered our Sanitorium in Monrovia, as a patient, with an illness. From 1934 until the time of her death, Sister has been stationed at Monrovia. Her illness became inactive, and when not a patient, Sister helped with the bookkeeping at Monrovia. Since 1954 a chronic pain came an added cross for Sister to bear and from that time on she was constantly under treatment – and really never free of pain.
In 1960 Sister was overjoyed to come to the Motherhouse for the Rededication Program – we thought at that time Sister might welcome a change and that we might keep her near the Motherhouse for a while – but it was found that our Eastern climate was not as kind as Monrovia to Sister, so she returned to California in time to vote for her candidate – Mr. Nixon.
Sister Mary Ignatius' long and hidden apostolate of suffering prepared her for the final sacrifice which she made – calmly and cheerfully. Sister Maria Fidelis who attended Sister, and was present at the anointing said "I have yet to witness anything dearer than Sister Mary Ignatius and Sister Mary Frederica, smiling back and forth to each other as Father anointed each part." She was truly being prepared for her journey to heaven.
On Friday, March 9, the funeral Mass will be sung in the Monrovia chapel with our Maryknoll Fathers officiating, and Sister will be laid to rest an Holy Cross Cemetery, where we have just purchased a new plot.