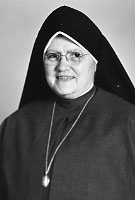 Sister M. Jerome Coxen, MM
Born: October 10, 1903
Entered: September 24, 1922
Died: December 3, 1987
At this tine of Advent – a time of awaiting the coming of the Messiah – our Sister Jerome need wait no longer.
On December 3, 1987, at 1:35 a.m., Sister Mary Jerome Coxen died at Phelps Medical Hospital. Sister's health had gotten progressively worse since late October and, at that time, she had been transferred to our Nursing Home.
Anna Frances Coxen was born in Jersey City, N.J., on October 10, 1903 to Thomas and Letitia Graham Coxen. Three months after her birth, the Coxen Family moved to the Crotona Section of the Bronx and it was there that Anna grew up in St. Thomas Aquinas Parish. She was the second oldest of thirteen children.
After graduation from the Parish school, Anna helped her father in his printing business for two years and then worked another two years for the Metropolitan Life Insurance Company. Her gift for working with finances, her speed, accuracy and phenomenal memory all indicated her special abilities which seemed to set a pattern for her future work. Recently, Sister laughingly shared a story on herself, saying how she learned about finances rather early in her life. As a young child, she recalled, whenever her mother went to the bakery to buy bread or sweet rolls, Anna went with her. At the store her mother never used money to buy but always said "Charge it." Anna thought, we must be rich! later in second grade, Anna decided to have a party with her classmates at school. She went to the bakery and chose many cream-filled sweet rolls, glazed doughnuts and said to the man, "Please charge it." Needless to say, she and her mother had a long talk about finances.
On September 24, 1922, with the encouragement of her Parish priest, Anna applied to the newly-formed Maryknoll Sisters, then known as "Teresians." As a novice and for a year after her First Profession on April 30, 1925, Sister Jerome worked in the Recording Department of the Maryknoll Fathers. Her business experience made her a valuable addition to the small office staff. On one occasion, she remarked to Mother Mary Joseph, "…but I came here to go to the missions." To which Mother replied in a phrase that is strikingly modern, "My dear, we are all in mission." It was in this spirit then that Sister Jerome could say after many years working in an office, "It doesn't matter what we do so much as why we do it."
In 1926, Sister was assigned to our Home for Children in Seattle. For the next five years she took care of the ill children of Japanese parents. This time was one of the greatest joys of her life. She sometimes sought advice from her own mother back in the Bronx, as the children she fed and cared for and watched over were as young as fourteen months. It was in Seattle that Sister made her Final Vows on April 30, 1928.
Later, working at the Venard Junior Seminary near Scranton, Pennsylvania, where she continued her studies, Sister welcomed the news that her Brother, Gervis, had become interested in Maryknoll. He entered the Seminary and after ordination was missioned to Korea.
Physical pain played a large part in Sister Jerome's life due to a back injury suffered in her youth. In spite of a series of operations, this could never be remedied. Sister's only comment was, "Since the doctor says I'll always have pain, why trouble myself thinking about it."
Sister Jerome's longest assignment began in 1934 when she returned to the Maryknoll Fathers' Records Department where she worked for the next 50 years. In 1971 as Records Department Supervisor, Sister gave a talk to the Maryknoll Fathers Promotion Directors at their Western Area Meeting. It was clear, challenging and thorough. During it she said, "Even in St. Paul's time there was a great need for 'Collections'. He called it a 'work of mercy' and wrote to the Corinthians that he was sending Titus to them in order to accept the generous offerings intended for the people in Jerusalem who were in great need." She was always proud to be associated with this Development work which she felt was a vital need of the Society. Even after Sister's recuperation from surgery in 1984, she continued to work part-time on a consultative basis for the Maryknoll Fathers.
Sister Jerome's great love of the contemplative life was evidenced in her own life of "silent service." It was this life of such service which helped make possible the spread of the Catholic mission spirit in the United States.
We know that Sister is now a strong advocate for Maryknoll and for her devoted family. We wish to extend our sympathy to Sister's family and friends. We are grateful to our Maryknoll Fathers who worked with Sister over these many years for joining Father Gervis in celebrating with us this Liturgy of Resurrection to New Life of our Sister Jerome.