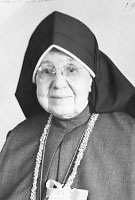 Sister M. Lillian Erhard, MM
Born: December 16, 1880
Entered: December 8, 1930
Died: May 5, 1960
The feast of St. Pius V (May 5) seems a most fitting day for our beloved Sister Mary Lillian to answer God's final call to Maryknoll in heaven. Sister was deeply devoted to the Mother of God; and, Sister Mary Alma, her niece, tells of their having visited the tomb of St. Pius V, great Dominican Pope, known for his Rosary crusade for Lepanto, when they were on pilgrimage in Rome before entering Maryknoll.
Sister Mary Lillian (Lillie Genevieve Erhard) was born in Philadelphia December 16, 1880. There she attended St. Alphonsus Parish School, and later received her Nurses Training at Philadelphia General Hospital and New York University.
She entered Maryknoll on December 8, 1930, after having practiced her profession in Philadelphia for 24 years, during which time she held many responsible positions. She was Assistant Superintendent of Nurses at St. Agnes hospital and also at Misericordia Hospital; Superintendent of Nurses at American Hospital; and finally, Supervisor at Philadelphia General Hospital.
Professed June 24, 1933, Sister was assigned to Los Angeles, where she cared for the Japanese children in the Home then conducted by our Sisters. Returning to the Motherhouse in late '34, she served in the Infirmary and as special nurse to Miss Ward, one of Maryknoll's early benefactors, who was recovering from surgery. During the last months of Father Founder's life, Sister was assigned to special duty with him. This she considered the great privilege of her religious and professional life and never tired of sharing this precious experience with us.
From 1938 to 1941 Sister used her skills to teach the doctrine and bring medical help to the poor and underprivileged Mexicans of San Juan Bautista, California, and she found great joy in this. Hard work and illness took their toll and Sister again returned to the Motherhouse. Sickness was to plague her through the years, but no sooner recovered than she was back on duty in the infirmary, and many of us know how she devoted every ounce of her strength to her patients. For many years, too, she taught first aid and home nursing to Maryknoll Novices and Seminarians. Successive assignments took her to Bethany, to Crichton, and finally to St. Teresa's Convent.
In the early Fall of 1959, treatment was advised for a long standing condition. But, before this could be performed, an injury halted the proceedings. During Holy Week this year, Sister became quite ill on Easter Sunday, on Tuesday was rushed to Phelps Memorial Hospital and anointed, and received treatment the following day. She seemed to be making a satisfactory recovery and returned to St. Teresa's on May 3, Tuesday. But God had other plans this time. On Wednesday evening Sister's condition worsened further. On May 5, she slipped peacefully into the immediate Presence of the One she had loved and served so ardently.
Knowing how active Sister Mary Lillian has always been, news of her passing will come as a surprise to many of you. Sister loved her work, and any enforced absence from it was painful to her. Only in the months since her injury did we note a gradual decline in the wonderful energy so characteristic of her.
Tomorrow, Saturday, we shall lay her to rest in God's Acre. The Requiem Mass will be sung at St. Teresa's at 11:00 a.m. May Our Lady hear our prayers and bring Sister's dear soul quickly to the fullness of the Beatific Vision!