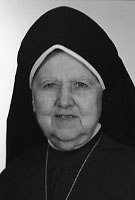 Sister M. Marcella Haggerty, MM
Born: April 22, 1902
Entered: September 24, 1924
Died: October 4, 1996
It has been known for some time that Sister Marcella Haggerty would not be with us for long. As is often the case, the day and the time were a surprise. About 5:00 a.m. on October 4, 1996, at the age of 94, and after a long illness Sister died peacefully in Residential Care IV. As a person and member of the Community, Sister was a gift to all of us. We now return that gift to God with thanksgiving for her life and the end of her suffering.
Sister Mary Marcella was born Loretta Mary Haggerty on April 22, 1902 in Vandergrift, Pennsylvania. Her parents, Margaret McDermott and Dennis Haggerty, had six children, one son and five daughters.
Sister Marcella entered Maryknoll on September 24, 1924 at the Venard in Pennsylvania. She made her First Vows on April 30, 1927 at Maryknoll, New York and her Final Vows on the same date in 1930 in Baguio, Philippines.
Sister's education began at Ambridge Grammar and High School in Pennsylvania after which she spent six weeks at the Pennsylvania State Library Summer School. She was then employed as an Assistant Childrens' Librarian. It is easy to presume that her love of books began during her early education days and was solidified through the summer school and employment at the Childrens' Library.
After entrance, Sister Marcella spent almost two years at Teachers College in Washington, D.C. where she received a Certificate in 1929. Twenty years later, in 1949, she received a Bachelor of Education degree from Maryknoll Teachers College, Maryknoll, New York. Later, in 1960, she received a Masters in Library Science from Pratt Institute in New York City.
Sister Marcella was assigned to the Philippines in 1929. At St. James Academy in Malabon Sister taught elementary grades for four years, followed by three years teaching in Maryknoll School, Baguio where she also acted as Mistress of Boarders. In 1936 Sister Marcella was assigned to Maryknoll Normal College in Manila. During World War II Sister Marcella with 38 other Maryknoll Sisters was among the 2,200 Los Banos internees rescued from behind the Japanese lines by the paratroopers of the U.S. Army 11th Airborne on February 23, 1945.
After their rescue Sister Marcella remained in the Philippines until May 1945 when she returned to Maryknoll, New York. After recuperation at the Motherhouse, she taught grades one and two for a short time in 1946 in Transfiguration School, Chinatown, New York City. Sister then returned to the Philippines, and once again became Mistress of Boarders and a teacher in the Maryknoll School in Baguio. When the school year ended Sister often was sent to Manila to organize the Maryknoll College library as the Sisters worked to re-build missions devastated by World War II.
From 1952 to 1957 Sister was appointed grade school principal and librarian at St. John the Baptist College in Jimenez, Mindanao, the Maryknoll Sisters first mission in Mindanao. Then followed three years of study, mission education work in Chicago schools, and work to prepare Maryknoll Teachers College at Maryknoll, New York for a new accreditation. In 1960 Sister Marcella returned to her beloved Philippines where she was the librarian at the new Maryknoll College in Quezon City.
In 1964 Sister Marcella was assigned to the expanding Maryknoll Overseas Extension Service (MOES) established by Father Eugene F. Higgins, M.M. and which had become part of the Society's Research and Planning Department. We can be proud of her contribution in the service that MOES extended both to Maryknollers and so many others.
In 1971 Sister Marcella once again was called upon for her librarian skills in Rogers Library along with her knowledge and skill in bookbinding. Throughout these years Sister Marcella was also curator of the Maryknoll Sisters Mission Museum which was housed in the area now transformed into the Heritage Exhibit.
For Sister Marcella mission was a total way of life. One example would be the way she was alert to ways and means of obtaining books from such places as the Library of Congress annual discards, Scarsdale Public Library book sales, etc. These she packed and sent to missions around the world. Many went to a Jesuit priest librarian in Manila who collected and distributed books for over 30 Philippine libraries.
In 1982 Sister Marcella moved into retirement status. However, all who knew Sister Marcella are aware that, until she became seriously ill, Sister continued to arrange Los Banos anniversary parties, parties for new Sister candidates so that they could "get-to-know" older Sisters and informally hear some Maryknoll history. In April 1996, when Sister became critically ill she was transferred from the Assisted Living area to the Skilled Nursing Facility of the Center.
Sister Marcella's interest, participation and devotion to mission were known to many and an example to all. In community she was known to be an affable member, greatly interested in all that was going on and contributing more than her fair share. To the delight of many she had a sense of humor that pervaded her conversation.
Sister Marcella was reticent to speak about her prayer life which was well founded on spiritual classics, such as, St. Teresa of Avila, Julian of Norwich, and others. In her well-worn Maryknoll Prayerbook in her characteristic handwriting she had noted:
"Fidelity to the Interior Life, Fidelity to grace, Devotion to Our Lady, Devotion to the Infant Jesus." All of these give an insight about what motivated her life.
A Sister remarked that Sister Marcella was a true daughter of the Church and a loyal member of Maryknoll. She observed that there was much that Sister Marcella said and did that reminded her of the conclusion of St. John's Gospel, i.e., there was much Sister Marcella said and did in her mission life that if all were written down, many books could not contain them all. We pray that she may now rest in the Vision of God face to face.
We thank our Maryknoll brother, Father Edward Manning for being with us and presiding at the Liturgy of the Resurrection. We also welcome and extend our sympathy to Sister Marcella's family and friends. May Sister Marcella's intercession continue for all to grow in the strong mission spirit that she exemplified so well.