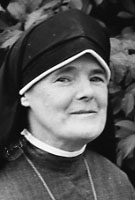 Sister M. Matthew Conlon, MM
Born: August 25, 1886
Entered: March 4, 1921
Died: February 25, 1958
This is to let you know that our dear Sister Mary Matthew was called home to God last night, just before the turn of another day, after some twenty years of illness.
Sister was born in Kylebeg, Blessington, County Wicklow, Ireland, in 1886, entered Maryknoll in 1921, and received her first assignment to the Orient in 1923. Hong Kong, Loting, St. Paul's in Manila, and finally Lucena benefited by her faithful devoted service. In 1939, she returned to the States and after tests and treatment in California her illness was diagnosed.  Sister returned to the Motherhouse about a year later. She lived for a while at Bethany, still able to get about with a cane, etc., but as the disease progressed it became necessary for her to be domiciled in the Motherhouse Infirmary, where she remained until January 1957 when she was moved to Bethany upon completion of the improved facilities there.
I have at hand a note from the Infirmarian dated October 1955 in which she said, "Sister Matthew seems to be getting weaker. The paralysis has now reached her vocal cords and she can no longer speak. Her condition only continued to deteriorate. Yesterday noontime she had a sinking spell, the Salve was sung, and prayers for the dying were said. She again rallied until the final summons came.
As many of you know, Sister Matthew has been an inspiring example of unflagging zeal, patient suffering, and love for her Sisters, whom she often delighted by her sense of humor. She never forgot the souls for whom she was privileged to labor in fields afar and her eyes often shone upon getting first-hand reports of former catechumens in the mountains of Baguio. One day recently, when it was thought that she was not in a condition to receive Holy Communion, the Sisters heard her "crying" and understood that she did not wish to be passed up.
I have no need, I am sure, to remind you of the usual Suffrages for Sister's precious soul – though it is so easy to believe that in her case the Divine Refiner saw fit to complete the work this side of the "Great Divide." May she, together with our beloved Mother and other Maryknollers who have completed the course, obtain for us all many Lenten graces.