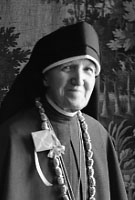 Sister M. Michael Conlin, MM
Born: April 19, 1871
Entered: August 27, 1917
Died: March 15, 1955
Each Tuesday, during the Little Hours of the Divine Office, the Maryknoll Sisters recite the Forty-First Psalm: "As the heart panteth after the fountains of water, so my soul panteth after thee, O God. My soul hath thirsted after the strong and living God. When shall I come and appear before the fact of God?" Early last Tuesday, Sister Mary Michael was called away from us to appear before the fact of God. One minute before she died, Father Cotta gave her Absolution and the Last Blessing – she had already been anointed – and proceeded at once to offer the Community Mass, placing her name for the first time in the Memento of the Dead. Psalm Forty-Two, at the foot of the altar says in part: "Send forth thy light and thy truth: they have conducted me, and brought me to thy holy hill and into thy tabernacles." These words too express the life-theme of Sister Mary Michael: hers was a heaven-bent and heaven-sent vocation.
Just before entering the Sisterhood in 1917, Mary Ann Conlin, already in her forty sixth year, wrote to Mother Mary Joseph from the welter of the worlds: "I will be glad to be with you and away from this dizzy place where one is continually giving so much energy at such a risk of losing one's soul – so many wild and distracting delucions. Please, dearest Sister, tell all the Sisters to be prepared for the trial I will be to them, but I promise to try hard to be worthy of their love. They have already made such tremendous strides in God's grace that I am afraid I will be so far behind that they will feel me a burden and a heavy tax on their great charity. I realize all this, but I am selfish on the threshold of God's House and just must come in where life is bent on the one great thing – our finding the way home to heaven."
You see, her whole bent was heavenward. She made no mention of the long years spent in settlement work and in observing lovingly the plight of the poor in New York, Paris and London, all with a view to relieving their pitiable condition. Later she expressed a preference for hospital work or care of the sick, as she said, "in any place or condition." And she could not know in 1917 that her charity, matched with obedience, would make her a pioneer in work for the Japanese in Los Angeles and Seattle. Rather, all she could think of, and write of, was, "I am selfish on the threshold of God's House and just must come in where life is bent on the one great thing – our finding the way home to heaven."
If this be selfish – to wish to cross the threshold of God's House – it is divinely appointed; and to come in where life is bent on the one great thing our finding the way home – is surely to be drawn effectively to Christ.
Thoughout her life of four score and four years, Sister's face was set as of one going to Jerusalem, the heavenly Jerusalem, the home city of us all. She knew that she was a pilgrim and a stranger on earth, that she had not here a lasting city but must look for one that is to come whose maker and builder is God (Hebr. 1).
As a pilgrim and a stranger on earth, she must discipline her heart against all worldly desires which war against the soul, and she must apply the talents God had given her using them well for His greater glory and love. Along the way to heaven, why cling to baubles and trinkets and trifles? If her eye was single, the whole body would be lightsome. Hence her conscientious approach to each phase of life as it unfolded itself and her constant purpose to attend upon the Lord without impediment. When Maryknoll burst upon her vision, it was seen as a society of saintly souls, one and all intent upon the one thing necessary, what she called "Maryknoll's great work for God and souls."
May I cite but on fruit of her zeal which came to my attention first in the winter of 1934-5. Sister had been busy during the holidays in New York disposing of Oriental needle-work for the missions. She plied the needle skillfully herself right up to the end of her life. In New York she met somehow and an Anglican clergyman, chaplain of Welfare Island, Father Daniels as he called himself. He was a young man, far from his home in New Brunswick, the Maritime Province, but not far from the kingdom of God. He already believed apparently all the dogmas of the true Church – what he lacked was the will to abandon his place in the Anglican community. Sister had him come to Maryknoll, introduced him to me and I had him attend a ceremony of vows in this very chapel. Sister kept in touch with him across the years. Ten years went by before she had the joy of hearing that he had entered the true Church in England and was going on to study for the priesthood as a Benedictine. I have no doubt that Sister's words and example, and sacrifices especially, finally won full faith for him.
Her own hopes were always set on that heavenly home which the Lord had promised to his loved ones. She remembered that in the Father's house there were many mansions; otherwise Jesus would have told us. Instead He had gone to prepare a place for us that where He is, we also might be. He has prepared for us a kingdom, so that we might sit down with Him at the celestial banquet. And many would come from the East and the West and would sit down with Abraham and Isaac and Jacob in the kingdom. Such anticipations of blessedness, of entering into the joy of the Lord, of receiving the reward exceeding great, Sister knew to be an obligation of christian hope. The message of her life may well be – find the way home to heaven.
This, my friends, was the mind of Sister Mary Michael. Her conversation was in heaven, whence also she looked for the Saviour, our Lord Jesus Christ (Phil. 3.20). She reckoned that the sufferings of the present time are not to be compared with the glory which shall be revealed in us (Rom. 8.18). If she suffered with Christ, she would also be glorified with him (Rom. 8.17). She looked to the reward (Hebr. 11.26).
Had not the Lord promised that the just shall shine as the sun in the kingdom of their Father? (Matt. 13.43). And had he not said: This is the eternal life that may know thee, the one true God, and Jesus Christ whom he hath sent (Matt. 16.25-26)?
So there remains a day of rest for the people of God (Hebr. 4.9). We pray that Sister may enter into that rest, into that heaven where they shall no more hunger and thirst, neither shall the sun fall upon them nor any heat. For the Lamb who is in the midst thereof shall rule them and lead them to the fountains of life, and God shall wipe away all tears from their eyes – and death shall be no more, nor mourning, nor crying, nor sorrow shall be any more, for the former things are passed away (Apoc. 7.16-17;21.4).
The holy apostle John wrote: "Dearly beloved, we are now the sons of God; and it hath not yet appeared what we shall be. We know that when he shall appear, we shall be like him, for we shall see Him as He is. And every one that hath this hope, sanctifieth himself, as He also is holy" (1 John 3.2-3).
Sister knew full well that the life of grace now is a certain beginning of eternal life. All the intimations of God had in faith she cherished as foretastes of the great Reality. Sights and sounds of nature, gentle companionship in the sisterhood, the discovery of new vistas of truth and devotion in prayer, all she welcomed as an early installment of that all-Goodness which she would one day possess, without fear of loss or diminution, while sharing God generously with the other blessed in the realms of light.
Meantime all those urges of Christ's charity, all those insights into the mysteries of God, all those God-given yearnings after peace and fulness, truth and holiness, she knew to be but the first glimmerings of that unending dawn which would break upon her soul as it would be ushered into the Divine Presence.
And so, while we offer up the morning Sacrifice unto an odour of sweetness in her behalf, we endeavour, after her example, to focus our attention on that heavenly home towards which she has repaired with virginal swiftness. Having put our hands to the plow, the Master bids us not look back, lest we be found unworthy of Him. Rather will we look ever forward as the furrows lengthen behind us and the uplifted God gives promise of a great harvest of souls.