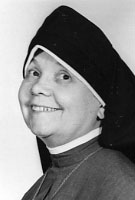 Sister M. Noreen Malone, MM
Born: May 23, 1899
Entered: April 5, 1929
Died: December 23, 1989
Sister Mary Noreen Malone died peacefully at 6:10 P.M. on Saturday, December 23, 1989, in our Maryknoll Nursing Home. She was ninety years old and a Maryknoll Sister for sixty years.
Sister Noreen was born in Westport, Ireland on May 23, 1899 and baptized the following day with the name of Anna Mary. Her parents, Patrick and Mary Mulroe Malone were both devout Catholics, who provided a warm, loving and religious spirit at home to Sister Noreen, her one sister, and five brothers as they were growing up. They were a close-knit family and everybody lent a hand to all the chores in the house and on their farm. It was there that Sister Noreen acquired her domestic skills, which she would put to good use in later years.
Sister Noreen completed 12 years of middle and high school education in Ireland. In 1921, she emigrated to the United States and settled in Brooklyn, New York with her sister. She became a Naturalized U.S. Citizen in 1927.
On April 5, 1929 Sister Noreen joined the Maryknoll Sisters. She attributed her interest in foreign mission to her brother Patrick, a Maryknoll priest who spent many of his early years as a missioner in China with Bishop Ford.
Sister Noreen was professed on June 24, 1931 and pronounced her final vows three years later on June 24, 1934 at Los Altos, California where she was assigned soon after first profession. That assignment was the beginning of the many years of labor of love and humble service that Sister Noreen rendered for her Maryknoll family in the kitchens and sewing rooms at Mountain View Seminary, at our Valley Park and Topsfield Novitiates, in Monrovia, at St. Teresa's Residence and here at the Center. It spanned her entire active life until retirement in 1971. All who had worked with her could attest to the loving care and joyful spirit with which she carried out her tasks. Although she did not get assigned to overseas mission, Sister Noreen found meaning in a life wholly dedicated to helping promote the mission of the Church and performing the indispensable tasks needed in the Community.
Sister Noreen was a person of quiet reserve, though her close friends had often enjoyed her sense of humor and had witnessed her fun-loving nature especially when she was with her family. Sister Noreen had always been devoted to her family and maintained close ties with them.
Throughout her 60 years in Maryknoll, Sister Noreen exemplified her great love for God through fidelity to prayer and worship. At the time of her Golden Jubilee in 1979 when she was asked "What makes up the essence of your missionary life?" her simple reply was, "My life of prayer."
As Sister became ill she was admitted to our Maryknoll Nursing Hone in 1980, where she continued her missionary life of prayer and contributed to Community celebrations when, on occasions, she entertained the residents with her accordion playing.
We express our sympathy to Sister Noreen's family and friends and welcome Maryknoll Father Edward J. Manning, who will celebrate this Mass of Resurrection and Thanksgiving with us.