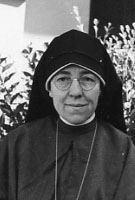 Sister M. Paraclita McTigue, MM
Born: June 26, 1889
Entered: September 24, 1923
Died: January 9, 1984
Sister Mary Paraclita McTigue died peacefully on January 9, 1984 at our Maryknoll Nursing Home.
Anna Frances McTigue was born in Worcester, Massachusetts in 1899, on June 26th. She and her four sisters were the children of Michael and Elizabeth Durkin McTigue, both of whom were born in Ireland. Her warm home life reflected the values of hard work and simple joy that were so much a part of the Irish tradition and kept alive among the large Boston area immigrant
population.
Anna Frances graduated from Commercial High School in Worcester; and she entered Maryknoll on September 24, 1923. At her Reception, she received the name of Sister Mary Paraclita. She made her first vows on April 30, 1926 and her final vows in 1929 at the Maryknoll Sisters Convent in Baguio in the Philippines. At that time, she was attending St. Paul's Hospital Nursing School in Manila. In 1934 she went to Hawaii and worked for five years at the Maui Children's Home where she was active in the care of the children who were orphans or who were sent there as Court cases. Sometimes, there were as many as sixty in the Home at a time, and this called forth all the resources of the Sisters and lay help. Sister Paraclita is remembered as being especially generous with her time and talents in the bursar's office at the Home and in the dining room,creating the warm family spirit for which Maui Children's Home was known throughout the Islands.
For many of her later years, Sister Paraclita worked faithfully here at The Center. In Mother Mary Joseph's conference for the New Year in 1943, she spoke of the task of those whose lives for the most part were, like Sister Paraclita's, spent here at The Center, doing the things that must be done to serve the mission of Jesus: "Some must stay home to keep the Center, the heart of the Congregation, alive, aflame with ardor that is communicated to our young Sisters… This is the less appealing side of our work and yet, because it demands a very conscious, supernatural motive to make us see and properly evaluate our great and essential mission opportunities, it is a vital part of our vocation as the more alluring phase of activity in the mission field.
Sister Paraclita understood these very real needs of our mission community and worked cheerfully where she was needed most at The Center: In Treasury, at the Mail Desk, and in the Promotion Office. She was a joy to those who worked with her as she often thought of kind and helpful little things to do and say. This fidelity to the task at hand was a characteristic that her co-workers will long remember about Sister Paraclita.
Sister had great devotion to the Holy Spirit and this enabled her to deal with life's challenges with a sense of humor and trust in the Providence of God.
In August of 1976, Sister became ill and she was admitted to Bethany in January, 1978. That summer, she was admitted to Maryknoll Nursing Home where she spent the remainder of her life.
We offer our sympathy to Sister Paraclita's family.
The Celebrant of the Liturgy is Maryknoll Father Robert E. Sheridan.