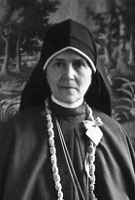 Sister M. Patrick Maher, MM
Born: March 10, 1886
Entered: November 1, 1916
Died: March 2, 1962
Sister Mary Patrick Maher died quietly on March 2, 1962 after a year of suffering. Her courage and determination was noticed by all. She worked up to her last days as part of the Maryknoll Fathers editorial staff.
Elinor Maher was born in the Roxbury district in the city of Boston, Massachusetts to John Bernard Maher and Mary Bonney Maher. She graduated from St. Patricks Parochial school and Roxbury High and attended two years at Boston Normal.
Sister entered Maryknoll on November 1, 1916 and was received on March 25, 1917 with final vows on February 15, 1924. She took the religious name of Sister Mary Patrick.
Sister worked for many years for the Maryknoll Fathers and Brothers in the office of the Field Afar magazine in the editorial department.
Her fidelity to duty and her loyalty to Maryknoll urged her to work while her strength remained. It was a consolation to her to know that her contribution was greatly appreciated by the Maryknoll Fathers and Brothers and she asked that their expression of gratitude and the Holy Father's Blessing be buried with her.
Her funeral will be on Monday, March 5th, so her soul will benefit in a special way by three night vigils and two full days of the prayers of her Sisters on watch.