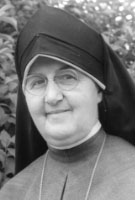 Sister M. Perpetua Koch, MM
Born: October 3, 1888
Entered: February 14, 1921
Died: March 10, 1959
Sister Mary Perpetua passed away Tuesday night, March 10, just five minutes before midnight at Phelps Memorial Hospital in North Tarrytown. Sister's funeral will take place Friday morning, March 13, with Father Koch celebrating the Requiem Mass at 9:30. Sister Perpetua will then join Mother Mary Joseph in the new cemetery beneath the Cloister hill.
Sister Mary Perpetua, (Mary Anne Koch), was born in Germany on October 3, 1888, and came to America with her parents and the other members of her family when a very young child. Five of the eleven children eventually entered religion. Besides the two Maryknoll Sisters, two of the boys became Redemptorist priests and one a Redemptorist brother. Sister attended St. Peter's Parochial School in Philadelphia, where she first learned the intricacies of the embroidery work at which she later excelled. On February 14, 1921, with her sister Grace, Sister Perpetua entered Maryknoll and was professed on April 9, 1923.
Hers was a quiet prayerful apostolate. The exquisite work of her hands which beautifully adorned the vestments and linens used in the worship of God, greatly enhanced the beauty of His house. When God called Sister through this last illness, she was happily busy in preparing the Miters for Father General's coming Consecration.