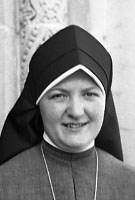 Sister M. Peter Christine Connelly, MM
Born: October 29, 1920
Entered: October 5, 1946
Died: May 13, 1953
Sister M. Peter Christine Connelly died on May 13, 1953. She was 32 years old and a Maryknoll Sister for 6 years.
Eileen Marie (M. Peter Christine) was born on October 29, 1920 in Chelsea, Massachusetts to Elizabeth (Trainor) and Peter Edward Connelly. She had two brothers. She attended grammar school in Marlboro, Massachusetts at Immaculate Conception. She graduated from High School at St. Bernard's High. Eileen continued her education at State Teacher's College in Fitchburg, Massachusetts and graduated with a bachelor degree in Science Education. After completing her schooling, she worked as a teacher in the Townsend School Department. Her interest in Maryknoll was brought on through reading periodicals and talking with friends. She answered her call to the foreign missions and entered Maryknoll on October 5, 1946. She took the name Sister M. Peter Christine.
Sister left the Motherhouse in 1949 on assignment to teach in the Philippines. She became very ill in October 1950 and underwent treatment for her illness in Manila. Sister M. Peter Christine bounced back and continued working after her recovery. It was not until late December in 1952 that the illness returned. Once this was discovered, Sister was immediately sent back to the Motherhouse. However, her health continued to decline and on May 13, 1953 she entered eternal life.
Let us recall God's blessings and goodness to us and in a special way give thanks for the gift of Sister M. Peter Christine's life to us all.