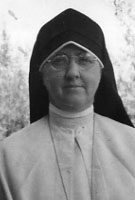 Sister M. Regina Reardon, MM
Born: January 12, 1890
Entered: October 25, 1920
Died: August 25, 1976
Sister Mary Regina Reardon died at Bethany on Wednesday evening, August 25th, after patiently suffering for some time.
Emma Teresa Reardon was born in North Abington, Massachusetts on January 12, 1890. She attended elementary and high school in Abington and after graduation enrolled at Bryant-Stratton Commercial School in Boston. After working for several years as a bookkeeper, Emma entered the Maryknoll Sisters Community on October 25th, 1920. Through visits of Father Founder James Anthony Walsh to her parish in Abington, she learned of Maryknoll and wished to be a religious in order "to give my life entirely to the service of God." She made her first profession on August 4, 1922 and her final profession on the same day in 1925.
Along with her desire to serve in mission, Sister Regina brought with her to Maryknoll fine qualities of mind and heart and a financial acumen which was greatly appreciated by the new Society. This she generously put to the service of mission and, except for the period of 1937 to 1942 which she spent in Hong Kong (being interned at Stanley Camp and later repatriated), she spent her life at the Center putting her greatly needed gifts and talents at the disposal of all and living out the Gospel expression of stewardship:
"Each of you has received a special grace. So, like good stewards responsible for all these different graces of God, put yourselves at the service of others." (I PETER 4:20).
Sister was our Community Treasurer beginning in 1923 and also served for ten years as a Council Member. She was a great help to Mother Mary Joseph in the financial sphere of the construction of the Motherhouse. The Maryknoll Fathers also counted strongly on her financial expertise, especially Bishop James Anthony Walsh in the years from 1922 until his death in 1936. During these years she would work for the Fathers during the day and for the Sisters in the evening. She often said that two or three chocolates at 8:00 p.m. gave her enough energy to work well beyond midnight! When Sister returned from Hong Kong in 1942 she was assigned to the Maryknoll Fathers' Treasury Department and worked there until 1959 when she transferred to the Sisters' Purchasing Office. In 1971 she joined the Center Senior Community, and in 1972 moved to Bethany.
"Right after profession, and without any previous business experience, I was assigned to work with Sister Regina in the Fathers' Treasury Department. She taught me a great deal about the intricacies of bookkeeping at the same time that I was learning from her dedication and faithfulness to the Lord, We became good friends at that time and I am grateful for the opportunities this past year has brought to visit and pray together and to deepen our friendship."
One of the Sisters who has been very close to Sister Regina over the years, noted: "What comes across to me more than anything was Sister Regina's great sense of order. It reflected in everything she did – in her work and in her personal life – there never seemed to be anything out of place. In her mind she worked on something and then put it back in place. I used to think her relationship with Our Lord must have been like that – clear and precise. She knew Him and worked in His cause selflessly. She made it clear to me on many occasions her great devotion to Maryknoll and she spared no effort to make it grow and prosper."
The Reardons, four boys and four girls, have always been a close family. The visits of the eldest, Sister Mary Emma, OP., have meant a great deal to Sister Regina, and they enjoyed a good one at Bethany just two weeks ago.
The Mass of the Resurrection will be offered this morning at 11:00 a.m. by Maryknoll Bishop Edward McGurkin and concelebrated by Maryknoll Fathers Edward Manning and Rudy Kneuer – the Maryknoll Society's past and present Treasurers.
Please remember Sister Mary Regina with the celebration of the Eucharist. May she who experienced the faithfulness of the Lord here on earth rejoice now in the deep peace and joy of His Presence!