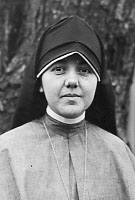 Sister M. Rosaleen Hampson, MM
Born: March 21, 1905
Entered: April 30, 1924
Died: March 3, 1960
On Thursday evening, March 3, at 7:20 in our Bethany infirmary, Sister Mary Rosaleen of the Eucharist quietly passed away.
Although Sister's health has always been frail, she was fairly strong during the past year, and was joyfully busy as were the other members of the Cloister family, in helping to prepare all things for the new Monastery. In the late fall Sister seemed tired and unwell. Sister went to Phelps Memorial Hospital for tests. The diagnosis revealed that Sister would have but a short time to live. Sister accepted this verdict with the same loving composure with which she has embraced God's designs for her always. She was happy to return to Regina Coeli and the loving ministrations of her Cloister family, as she awaited the unfolding of God's plan for her last assignment.
We had hoped that the new Monastery, with its well located infirmary facilities, would bring a meed of comfort to Sister. However, God willed that Sister would enter into her heavenly home before the Monastery was ready. She grew weak rapidly and when her illness reached a stage where she needed continuous nursing care, and facilities not provided in the present Monastery, upon the invitation of Sister Mary Trinita and Sister Marilyn, it was decided that Sister would be taken to Bethany, which arrangement, Sister Mary Rosaleen accepted with her usual smiling good grace. She was moved on Tuesday afternoon, March 1.
On Thursday morning, fully conscious, she was anointed again, during which she was able to join in the responses. She listened as the Sisters sang the Salve. Sister remained conscious until about 6:00 in the evening, and at 7:20, quietly and sweetly, as she had lived, Sister Mary Rosaleen of the Eucharist slipped off to God.
Sister Mary Rosaleen, the former Anna Mary Hampson, was born in Lexington, Kentucky, on March 21, 1905. She attended parochial grade school in her native parish of St. Peter's and was graduated from St. Catherine's Academy, Lexington, Kentucky, in 1923. The following April she entered Maryknoll. She received the Habit on December 8, 1924, and made her first profession on the same date, two years later. During her years at the Motherhouse, Sister worked at the Field Afar Office and from 1929 until 1931, served as assistant to the Mistress of Novices.
Sister Mary Rosaleen's health was never robust. She bore her suffering patiently and joyfully. In 1931 she was assigned to Monrovia where she regained her strength sufficiently to be selected as one of the ten Sisters who formed the pioneer Cloister Unit at Regina Coeli on October 4, 1932. To her name was added Sister's Cloister dedication – "of the Eucharist."
During her twenty-seven years in the Cloister, Sister faithfully lived the life of prayer and penance of prescribed for our Cloister and always for her there was the added penance of physical suffering. In 1945 Sister underwent two more treatments from which she made a fairly good recovery from the illness until a month before her death. In 1957 she again had surgery. The past year Sister had been fairly well and until late fall was able to follow the daily Cloister routine quite completely.
Sister liked to share with her Sisters in Christ, spiritual "crumbs" which she knew they would find helpful. One of these, a quotation from an excurees on the Gift of Fortitude, sums up the source from which Sister drew her own strength.
"The Gift of Fortitude leads us to endure long and painful maladies, moral sufferings; to undergo martyrdom by shedding our blood, or by shedding it figuratively, drop by drop, by spending ourselves completely for souls… The Holy Spirit becomes the "fort" of our souls — gives us strength to carry on — since He is God and near us always. We prepare for the Gift of Fortitude by humbly acknowledging our weakness, but Christ's strength in us — and seeking His strength in Holy Communion."
And, on another occasion, when Sister wrote to Mother Mary Joseph, she included a quotation from St. Therese, which she said "has long been a favorite with me, since it seems to bring out a practical element in the Little Flower's doctrine of love."
"I am about to go before God and I understand now more than ever, that one thing only is needful – to work for Him alone and do nothing for self or for creatures."
It seems particulary fitting that Sister Mary Rosaleen of the Eucharist should have gone to God on the first Thursday of the month. Because of the severe blizzard that has blanketed New York with snow and buffeted our Knoll with high winds, the funeral will be deferred until Monday. Since the new Monastery is not yet ready, Sister's body will be brought to the Motherhouse, where she will remain in the Chapter room while we have Exposition, on Friday, Saturday and Sunday, – and on Monday, March 7, at 11 o'clock, the Requiem Mass will be sung for Sister here at the Motherhouse.
We commend her dear soul to your prayers.