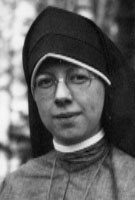 Sister M. St. Anthony Keenan, MM
Born: October 29, 1902
Entered: October 15, 1927
Died: November 22, 1968
It will be a surprise to many of you that Sister St. Anthony went to God at three thirty in the morning on the feast of St. Cecilia. Sister had not been well for many months, and we who lived with her realized what a valiant effort she made despite physical exhaustion, to continue the demanding task of meeting our needs for mimeograph work reaching out to the entire congregation!
Sister St. Anthony, Agnes Patricia Keenan, was born at Rochester, N.Y., October 29, 1902. She entered Maryknoll after graduation from the College of St. Elizabeth, Convent Station, on October 15, 1927 and was professed April 30, 1930. Excepting two years at the Motherhouse, 1944-46, Sister worked on the West Coast from 1932 to 1948, when she returned to the Motherhouse and was assigned to the Promotion Department. Guatemala, and especially Monte Maria became Sister's new mission in 1948. Here she endeared herself to the girls and their families by the homey atmosphere she provided, through supervision of the kitchen, laundry and sacristy. She has many friends in Guatemala who have not forgotten her and have kept in touch with her.
Again, poor health necessitated Sister's return to the Motherhouse, in 1963. When Sister's health improved, she took over the mimeograph department, which became so important in establishing communication with all of our Sisters. This was Sister's "task" which she carried out very faithfully, but, there was another place that Sister held in the Motherhouse community. She was known to be a "good listener," and for her kindness and understanding which she held out to many who looked to her.
Sister St. Anthony is survived by three sisters; Sister St. Dorothy, S.S.J.,of Rochester, N. Y.,and her sisters Ursula and Margaret. There will be a requiem Mass for Sister on Monday, November 25.