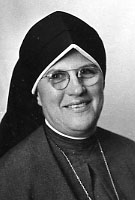 Sister M. St. Rita McMahon, MM
Born: June 28, 1912
Entered: December 8, 1938
Died: September 14, 1983
Sister St. Rita McMahon died September 14, 1983 at the Medical Center in Manila, Philippines.
Rita Catherine McMahon was born June 28, 1912 in New York City. Her parents were Michael J. and Catherine Collins McMahon. She had three brothers and two sisters.
After finishing a business course at the Assissium Institute in New York City, Rita Catherine worked as a bookkeeper, typist, and general office clerk. It was at this time that she acquired the nursing skills she used so well in caring for her Sisters and the people during her years in the Philippines.
Rita Catherine entered Maryknoll December 8, 1938 "…because I feel it to be my vocation. The work of the foreign missioner appeals very strongly to me." At Reception she received her religious name "Mary St. Rita". First Profession on June 30, 1941 and Final Profession on June 30, 1944 were made in this Chapel. Sister St. Rita served in mission at the Center as guest mistress, in charge of the laundry, and also working for the Maryknoll Fathers. During these years many of us were under her tutelage and grew in attention to the care of the various tasks around the Motherhouse. We came to appreciate Sister's understanding, her kindness and perseverance in getting things done and well done! Good humor and concern for the Sisters working with her pervaded and a trusting and long-lasting rapport was quickly established.
Assigned to the Philippines in 1946, Sister St. Rita's range of activities encompassed teaching, counseling, Directress of St. James Academy, catechetical instruction and supervision, cooking, plant management, and whatever else had to be taken care of at any time. From St. James Academy in Malabon, outside of Manila, she then traveled down to Datu Piang in Mindanao to work among the Muslims; then on to Panabo, Davao in central Mindanao, to Jimenez in northern Mindanao, returning to be Coordinator of the Sisters at Maryknoll College in Quezon City; then back to her "first love", St. James Academy in Malabon. She remained at Malabon until the school was turned over to another Community. Her apostolic work continued from Navotas, not too far from Manila, where she supervised the Catechists and was "Mother Confessor" to all.
Sister St. Rita was a very caring person. She reached out to all in every way and circumstance. She loved people and they returned that love.
The Sisters, too, knew first-hand of her caring ways. When they experienced sickness, she worried about them, and rendered every possible attention, no matter how busy her regular duties kept her. She was an excellent cook and knew how to celebrate. The Halloween Party at St. James' in Malabon was a "must" for all the Sisters on Luzon. School calendars and other events were made around this date so that all could be present at "the Saint's" party. Her dancing, good food, concern for the enjoyment of everyone made the get-together a memorable time for all, and contributed much to the well-being of all.
Sister St. Rita lived 71 full years – 45 years as a Maryknoll Sister. Each one of us who knew, loved, worked, played and prayed with her have many significant things to relate about her. All of our Christian life is meant to be sacramental. Through her total consecration and commitment to the Lord Jesus, Sister St. Rita's life was fully transformed by the life, death and resurrection of Jesus. This was communicated in countless ways to all she served in mission. Mission was a total way of life for her.
To all the members of the McMahon Family, to her many friends throughout the world, our love, prayers and sympathy. Through Sister St. Rita you are a real part of the Maryknoll Family and will continue to remain a part of us. We thank you for sharing Sister so generously with Maryknoll, and with the people of the Philippines.
Father Walter J. Maxcy, Maryknoller, and a co-missioner of Sister St. Rita in Davao, is the principal celebrant of the Eucharistic Liturgy this morning, September 17th, assisted by the Reverend Patrick Jordan, and the Reverend Catalino Arevalo, S.J., of the Philippines.