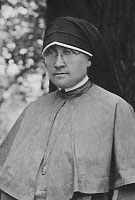 Sister M. Teresa Sullivan, MM
Born: December 6, 1874
Entered: January 6, 1912
Died: March 13, 1957
As you have no doubt been aware, Sister Mary Teresa has been failing for some time. The past month or so the decline has been rather rapid. The day before, yesterday she went into a coma and this afternoon at about 3:30 she quietly breathed her last.
Sr. Teresa was one of our 'Three Wise Women " who came to Hawthorne on the Feast of the Epiphany, January 6, 1912.
Sister was born in Ireland in 1874. As a small child she came to this country with her family who settled in Nashua, N. H. She attended the Nashua schools and Chandler Business College in Boston. Years later, as a Maryknoll Sister, she went to Washington and took a summer course in Library Science.
Before entering Maryknoll in 1912 she was a secretary at Harvard Medical School for twelve years.
Sister was First Councillor and as such was assistant superior from 1917-1920, when she left to open our Seattle Mission, with Sr. Gemma as assistant.
Sister was again chosen as a member of the Council, for which she served as secretary, from 1922-1925.
In 1925 she was assigned to Korea and was appointed as Superior of our second Korean Convent, which was located in Antung, Manchuria across the Yalu River. Because of the extreme cold, Sr. Teresa became ill and returned to the States in the spring of 1926, and served in Los Angeles and Los Altos until 1928, when she came to the Motherhouse.
Sister then worked in the Propaganda (later Promotion) Department for many years.
Sister spent the last two months of her Maryknoll dedicated years at Bethany where she died on March 13, 1957.
The Funeral Mass will be here at the Motherhouse 9:30 Friday the 15th. I am sure there is no need to remind you of prayers for Sister's soul.