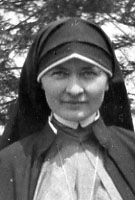 Sister M. Teresita O'Donnell, MM
Born: October 20, 1893
Entered: October 14, 1919
Died: March 16, 1929
Sister M. Teresita died on March 16, 1929. She was 35 years old and had been a Maryknoll Sister for 10 years.
Jane (M. Teresita) was born on October 20, 1893, in Aberdeen, South Dakota, to Margaret and Patrick O'Donnell. She was the youngest of seven children. Jane received a grammar school education and attended Abeerden High School for one year. She then took an equivalent of a five year normal class, specializing in domestic science. Jane then took a two year business course. With the knowledge of her calling to become a Sister, her interest in Maryknoll was sparked by a spiritual friend at Maryknoll, Saint Teresa, and a Jesuit Father, Father Schell. She entered Maryknoll on October 14, 1919, and took the name Sr. M. Teresita.
She served in Los Angeles, as well as the Philippines. While working in the Philippines, Sister became very ill. Sister was relocated to Seattle for treatment. She was later transferred to Deming, New Mexico, and Baltimore, Maryland. Sister suffered with her illness for many years until she went to join her creator on March 16, 1929. Please remember the soul of Sister M. Teresita.