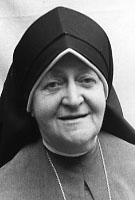 Sister M. Trinita Logue, MM
Born: January 25, 1895
Entered: April 20, 1924
Died: May 11, 1970
Sister Mary Trinita died at 4:20 the morning of May 11, 1970.
Sister Mary Trinita (Kathleen Veronica Logue) was born in Nov York City, January 25, 1895. Sister worked for the New York Telephone Company as operator, supervisor and chief operator, over a period of twelve years before she and her sister Julia, who later became Sister Mary Luke, entered Maryknoll on April 20, 1924. The two Sisters shared their early years at Maryknoll and were professed together on December 8, 1926. Sister Mary Trinita was assigned to the Philippines in 1927.
Sister's whole life, marked by courage in the face of great suffering, has been one of devoted service to the mission of the Church through her Maryknoll dedication. Her first assignment in the Philippines was to St. Mary's Hall, where Sisters Mary Theodore, Mary Elvira and Mary Trinita comprised the first staff at a hostel for young women who were attending the University of the Philippines. In time, Sister became Superior at St. Mary's and two years later, she succeeded Sister Mary Columba as the Regional Superior of the Philippines. During the war years, and as a prisoner in Fort Santiago prison, Sister gave witness to great faith, courage, and integrity in the sufferings she endured. Her own testimony before the Congressional War Claims Committee in 1947, gives her story in her own words, factually and succinctly:
"About ten days after the Japanese entered Manila, I, with a number of other religious, were interned in a French convent, and I stayed there until April 11, 1944. At that time three members of the Japanese military police came to the convent, asked to see me, by name, searched the house, and then decided that they would take me to Fort Santiago for further questioning.
There I was accused of espionage, guerrilla activities, and keeping up the spirits of the Filipinos, and I was ordered to write a confession of all that I had dome against the Imperial Japanese Army.
When I refused to do this they asked if I was aware that the punishment was death. But that if I would write this confession they would, with a slight punishment, transfer me to Santo Tomas interment camp. I had done nothing against the military, I insisted, and did not write any confession.
They then put me in a dungeon at Fort Santiago. After eight hours, at 2 o'clock in the morning, they took me from the dungeon, and questioned me again for three hours.
At 5 o'clock in the morning I was put into one of the cells in the regular cell section.
For the next four weeks I was taken from the cell and questioned two and three times every day or night. I was beaten three times and was given the "water treatment" three times, and endured other mental tortures.
During this period the food was one saucer of rice three times a day. In July it was reduced to the same amount, twice a day. And then in November to camotes twice a day. In the cell we were not permitted to talk to the other prisoners, we had to sit on the floor from 7 o'clock in the morning until 7 o'clock at night, without a back support.
At night we would just stretch out on the bare, crowded floor, and try to get what sleep we could.
I was again called for investigation on the 19th and again on the 29th of June, when I insisted upon my innocence they told me I could go back to the cell and sit there, and the people with whom I had been working would tell. I had not been working with anybody, and I know nobody could say anything against me. But they let me stay there until the 21st of December.
On the 21st of December I was transferred to Cortabitate Garrison in Malate, and there I was put in a cell with men and women. For the next 10 days prisoners were brought in, men and women. They stayed a few days, were taken out, and their hands tied. Some of their bodies have since been recovered.
During the last two months of my imprisonment I was not permitted out of the cell for any reason. On the 31st of December one of the military police who arrested me came to the cell and told me I was going to Los Banos.
They took me first to the Far Eastern University, turned me over to the Japanese officer in charge of the civilian concentration camps, then I rode in a Japanese Army truck to the paco station, and at 11 o'clock that night I was placed in a box car with 300 Japanese soldiers, we rode all night and reached Los Banos at 6 o'clock on New Year's day 1945.
When I reached there, I was in a very weakened condition, having lost 75 pounds. I was put to bed immediately, kept in bed for six weeks and was among those rescued by the paratroopers of the Eleventh Airborn Division on the 23rd of February."
Sister Mary Trinita returned to the United States for the General Chapter in 1946. For the next four years she served as Procurator at the Motherhouse. In 1950 Sister was named the Superior of the San Francisco house and later was made Regional Superior of the West Coast. 1958 until 1966 Sister Mary Trinita was Regional Superior of the Eastern Region. In January 1966 she welcomed an assignment to the Motherhouse, where she again worked in the Purchasing Department until, for reasons of health, she had to be relieved of these duties.
Sister's keen interest in all that pertained to her beloved Maryknoll never wavered. There was never room in her thoughts for self pity. Her beautiful courageous spirit was a source of inspiration to all who were privileged to help with Sister's care. She was a valiant woman to the end.
Father Robert Sheridan, MM, who knew Sister in the Philippines, will be the celebrant at Sister's Requiem Mass on Wednesday, May 13, here at the Motherhouse. It is a lovely coincidence that the space where Sister Mary Trinita will be laid to rest is adjacent to her sister, Sister Mary Luke.