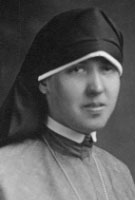 Sister M. Ursula Kenkel, MM
Born: November 15, 1898
Entered: November 15, 1919
Died: August 26, 1985
Gertrude Kenkel was born on November 15, 1898 in Wilmette, Illinois to Frederick P. and Eleanore Kanptz Kenkel. She was one of seven children, three brothers and four sisters in an active, happy family. One brother, Anthony, survives her, and two sisters, Mrs. Noxon Toarey and Sr. M. Gertrude Kenkel, SSND. That faith and love of God filled their home life is evidenced in the move for canonization of their father who died in 1952. Through Mr. Kenkel's efforts two large Catholic organizations were founded: The Central Bureau, National Headquarters of the Verein and the National Catholic Women's Union. Her sister, Eleanore, joined us at Maryknoll in 1926 and remained until 1937 when she returned home. Eleanore died October 12, 1982.
Sister Ursula graduated from Rosati Kain High School in St. Louis, Missouri in 1917, St. Louis Library School in 1918 and Providence Hospital School of Nursing in Seattle, Washington in 1924. She furthered her nursing study at Marquette University in Milwaukee, Wisconsin for the school year of 1924-1925.
In applying to the Teresians, she stated that her interest in Maryknoll stemmed from perusal of The Field Afar magazine and the guidance of her English teacher, Sister Mary Angela, SSND. She entered Maryknoll from St. Cecilia's Parish in St. Louis on November 15, 1919, and made her First Profession at Maryknoll on August 5, 1921 and her Final Profession in Seattle on August 4, 1924.
Following her studies at Marquette, Sister Ursula was assigned to Korea where, after language study, she worked with orphans and the aged at Gishu and served as Superior and Head of the Dispensary. During her two years in Korea she translated from German and Latin into English the famous dictionary written by the Benedictines. To this day it is one of the finest, an immense help to English speaking missionaries.
Her love of research and writing endured through her lifetime. Poetry became a primary means for Sister to communicate to us her intense love for God and God's Mother, Mary.
From Korea, Sister Ursula went to the Philippines where again she did nursing. But health issues diminished her capacity for rigorous life and she was reassigned to the United States in 1930 where she did part-time work here at the Field Afar office and then at Monrovia and Los Angeles.
In 1980 Sister moved to the Maryknoll Nursing Home and remained as active as possible, serving as portress there for the second shift, attending house events and writing in the library.
Ever gracious and concerned, Sister liked to visit. That she was loved, respected and admired by those who knew her is evidenced by heartfelt comments throughout the compound. We thank God for her life and the joy in it which she conveyed so consistently.
We extend our sympathy to Sister Ursula's family and welcome Father Charles Huegelmeyer, M.M., who will offer the Mass of the Resurrection.