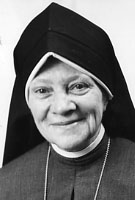 Sister M. Vincent Hunt, MM
Born: April 5, 1889
Entered: March 3, 1921
Died: July 18, 1968
Sister Mary Vincent (Helen Catherine Hunt) died on Thursday morning, July 18, at Phelps Memorial Hospital, where she had been in treatment for one month due to an injury. Recovery after surgery was complicated by a condition from which Sister never showed signs of improvement. A second injury added to the seriousness of the medical problem. A bright spot in Sister's last illness was a brief visit from Mother Mary Columba, who had come East for the commissioning of the USS O'Callahan in Boston.
Sister Mary Vincent was born at Boston, Massachusetts, April 5, 1889. She worked several years as a bookkeeper before her entrance to Maryknoll, March 3, 1921. Her first assignment after profession, April 9, 1923, was to our Japanese mission in Seattle, where she found great joy in taking care of the Japanese children at the nursery conducted by the mission. Then followed a long assignment of twenty years to the staff of Bethany, the guest and retreat house which played an important part in developing good "Public Relations" for the Congregation during those years. After an interlude of nine years at the Motherhouse, working in the pantry and later the sewing room, Sister returned to Bethany, as we know it today, in December 1957. Her special prayer assignment at Bethany — to pray for Africa — gave her a deep and personal interest in the work of our Tanzanian Mission.
Sister Mary Vincent can well be described as the "soul of gratitude". She expressed gratitude graciously and warmly for everything that was done for her personally, and for so much that the thoughtfulness or planning of others provided to benefit the whole Community. She herself said that she had a litany of thanks for blessings that many of us fail to appreciate. She thanked God and her Sisters, for such things as a new picture in the recreation room; for Bethany's new addition, planned so well; for the new wing at the Motherhouse, which would make the work of the Sisters easier; for the vacation house at Watch Hill, etc. Every little attention to Sister's personal needs was rewarded by a gracious "thank you".
The Requiem Mass on Saturday, July 20, was followed by burial in our cemetery.