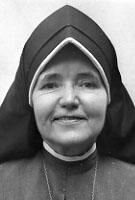 Sister M. William Duffy, MM
Born: February 1, 1898
Entered: September 21, 1923
Died: April 19, 1986
Our Liturgy this morning celebrates the entrance into eternal life of our Sister Mary William Duffy in this beautiful season of spring and Eastertide. After a long illness, Sister died peacefully on Saturday afternoon, April 19th, 1986 in the Maryknoll Nursing Home.
A native of Fall River, Massachusetts, Mary C. Duffy was one of four children, two daughters and two sons, born to William J. and Catherine Madden Duffy who were both devout Catholics. From her birth on February 1st, 1898 through her growing-up years, Mary was surrounded by her loving and very religious family. She attended Sacred Heart Grammar School, graduating in June, 1912.
Mary started working at age fifteen at the American Print Factory. During this time she continued her schooling at night, at a Technical High School and at Herrick Institute, where she completed a one-year business course in June, 1917. Mary continued her business career for several more years doing clerical work at the U.S. Torpedo Station in Newport, Rhode Island before joining Maryknoll in 1923 on September 21st. Her older sister, Annie (later our Sister Mary Assumpta), had already entered Maryknoll a year earlier. At Reception time Mary was given her Religious Name: Sister Mary William. She worked in the Seminary kitchen and at The Field Afar Office until her First Profession on April 30, 1926. She pronounced her Final Vows three years later.
For a few months after first profession, Sister Mary William was Guest Mistress at Bethany House. Then in November, 1926, her cherished dream of serving in the foreign missions cane true with the announcement of her assignment to Korea. During the next sixteen years Sister William's life was characterized with a fervent missionary zeal and single-mindedness in wanting the Korean people to know and love Christ. Her letters joyfully recount many stories of conversions and the number of baptisms taking place each year. In addition to her full-time catechetical and parish ministries, Sister Mary William had also been given the Community responsibility of Superior from 1935 to 1941 at the Gishu, Kirimni and Shingishu houses.
When World War II broke out, Sister Mary William was among those interned in Shingishu by the Japanese. Her sister, Sister Mary Assumpta, shared the same experience at Los Banos in the Philippines. Sister Mary William was one of the last ten religious to leave North Korea for repatriation. "We had to go," she remarked. She arrived in the United States on the M.S. Gripsholm on August 25, 1942. Her joy of being home did not become complete until April, 1945 when Sister Mary Assumpta also returned safely. Both of them had a happy reunion with their family.
In the succeeding years Sister Mary's many talents and skills were put to good use in the office, in the sewing room and the sacristy at Monrovia, CA and at the Maryknoll Junior Seminary at Mountain View, CA. Wherever she was sent and whatever the task might be Sister Mary William always responded with a consistent spirit of obedience and fidelity. Before her transfer to Mountain View in 1955, she wrote to Mother Mary Columba, "…the one thing that matters – and which I desire – is to be where God wants me."
Although she was not assigned back to Korea, her ministry to the Korean people continued on the West Coast. In 1966 she became involved in catechetical work with the Koreans in Los Angeles. To recall the Korean language after 24 years was difficult but she wrote for prayer books, bibles and hymnals from Korea, determined to conquer the odds. Sister Mary William was also instrumental in establishing the Korean Catholic Association of Southern California in 1968. This group holds Church activities monthly and publishes a Korean weekly newspaper.
From 1971 until her return to the Center in 1976, Sister Mary William helped with the secretarial work in Maryknoll School in Los Angeles, while continuing contact with the Koreans in the Parish. Sister Mary Assumpta's death in 1977 caused Sister Mary William great sadness and her health started declining. In February 1978 she was transferred to Bethany and later to Maryknoll Nursing Hone for full-time care. During this period, as was true in all her 63 years as a Maryknoll Sister, Sister Mary William lived her life of fidelity to God and to her religious missionary vocation.
We are certain that Sister Mary William was ready when Our Lord called to her:
"Come, blessed of my father, receive for your heritage the kingdom prepared for you since the foundation of the world." (Matthew 25:34-35.)
We welcome and extend our sympathy to Sister's family and friends. We know we are all united in spirit as together we join Maryknoll Father Charles Huegelmeyer in offering this Eucharistic Celebration of love and remembrance.