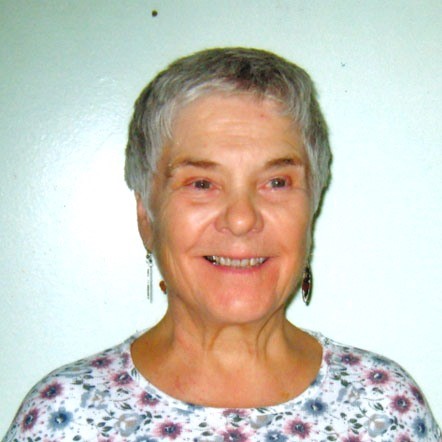 Sister Madeleine Giusto, MM
Born: May 27, 1940
Entered: September 7, 1968
Died: March 30, 2020
Singing and the joy of life were two gifts that our Sister Madeleine Giusto shared generously with us Maryknoll Sisters until her untimely death on March 30, 2020 at Phelps Memorial Hospital. Madge, as she was affectionately known to us, was admitted to the hospital on March 25th after contracting the Covid19 virus. Because of the restrictions imposed on all by the pandemic, none of the Maryknoll Sisters were with Madge during this hospitalization or at the time of her death. Madge was 79 years old and had been a Maryknoll Sister for 51 years.
Madeleine Claire was born in Chicago, Illinois to Margaret (Pinscak) Giusto and Thomas Giusto on May 27, 1940. She had three brothers, Thomas, Vincent and Donald, and four sisters, Marie, Margie, Diane and Jacqueline.
In 1958 Madge graduated from the St. Louis Academy in Chicago and then continued her education at the Roseland Community Hospital in Chicago where she earned a R.N. degree. After receiving her degree she worked as an RN at Washoe Medical Center in Reno. Throughout her life she was a dedicated nurse, offering her skills, her compassion and joyous spirit to all who needed her.
Madge carefully thought out her decision to enter Maryknoll. She said, "I thought of becoming a nun for a long time and I felt it was the best way for me to fulfill my Christian commitment. It was an experience that taught me how to live with integrity and love. It taught me how to minister and be ministered to."
She entered Maryknoll in St. Louis, MO. on September 7, 1968 from St. Thomas parish in Reno, NV. Her first assignment was to South Korea in 1969, during her second year of formation as a Maryknoll Sister. She made her first vows on September 16, 1971 in Korea. Her Final Profession was on July 27, 1975, also in Seoul, Korea.
Sister Madeleine served as a clinic nurse from 1969 to 1971 in Jeung Pyong, a countryside community in Korea, where she ministered to the poor and sick while also acting as an interpreter and English conversation teacher. She was in charge of the treatment room and supervised two Korean nurse aides.
In 1972, she returned to the Center for her Year of Reflection. At its completion in 1973, she worked as a staff nurse at Bethany House, caring for the ill and elderly Sisters of Maryknoll. After completing three years of service there, she returned to Korea in 1975, resuming her language studies and then working as a public health nurse in the small seaside village of Samyul in the Province of Kyung Sang Puk Do for a year, then as a member of a Community Health Team from 1976 to 1978.
While continuing to use her many nursing skills, Madge began ministering specifically to patients with Hansen's Disease in So Rok Do, an island set aside by the Korean Government as a place of residence and treatment for the many inflicted with this disease. In this ministry, she served both in a home for the elderly as well as in individual homes. Each day she went out to visit the sick, washing and treating their sores, seeking to fill them with comfort and peace. She ministered to them with tireless dedication. She rejoiced with them in their successes and prayerfully consoled them in their weaknesses, always striving to make God's love visible in their lives.
From 1984 to 1987, she once again served at the Maryknoll Sisters Nursing Home (now known as Maryknoll Sisters Home Care or MSHC). Returning to Korea she began a new ministry in Kwangju, meeting with university students in their English Clubs from February to July 1988. As an additional ministry she began volunteering at the St. John of God Clinic and Hospice which served those suffering from mental illness. She then returned to the Maryknoll Sisters Center in September 1988 to serve again in the Maryknoll Nursing Home as a staff nurse until August 31, 1992.
The Sisters that lived and ministered with Madge often spoke of her as a good community person, describing her as loving, kind and very generous. She was always ready to help others in any way possible, especially those who were sick. In community, when it was her turn to cook supper for the Sisters, she would prepare such a generous meal that there was enough for several days, relieving others of the need to cook. "That's the way we Italians are. We were brought up this way," she said.
Sister Madeleine then did mission education and promotion work in the Midwestern United States from October 1992 to August 1994. At its completion, she returned once again to serve as a staff nurse at the Maryknoll Sisters Center, and then returned to work in Korea for several more years before eventually retiring in 2004.
To make the most of this period in her life, Sister Madeleine choose to reside in Monrovia, CA where she was engaged in various volunteer activities with the poor in the region. She became well known for her commitment to working with the blind at the Lighthouse as a volunteer. She also served the Monrovia Civic Community and the Santa Anita Family Service until 2010. Madge joined the Social Work Dept. in Monrovia as a friendly phone caller for those who were homebound. Going beyond the call of duty, she would also visit the individuals in their homes. Her generosity knew no bounds.
Due to health limitations, Sister Madeleine returned once again to the Maryknoll Sisters Center, where she was assigned to the Chi-Rho Community on December 1, 2015 and later to the Eden Community on November 2, 2017.
Due to the present global situation, arrangements for a Vesper Service and Memorial Mass will be made later.