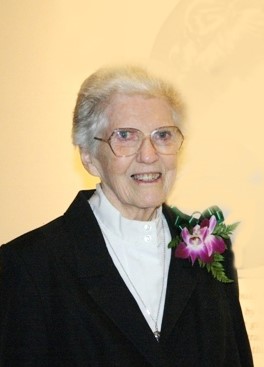 Sister Madeline Dorsey, MM
Born: June 26, 1918
Entered: December 8, 1936
Died: February 13, 2021
Very early in the morning, on February 13, 2021, Maddie slipped away to the arms of God, with the same grace and peace that she had modeled for us throughout her long and rich life as a Maryknoll Sister for 75 years—she was 102 years old.
Dorothy Madeline Dorsey was born in Brooklyn, NY on June 26, 1918 to Katherine (Poleon) and John J. Dorsey; her brother John and her sisters Madeline and Kathryn have predeceased her. She attended grade school in Brooklyn and graduated in June 1936 from St. Francis Xavier High School. That same year Maddie entered the Maryknoll Sisters on December 8th, and made her First Profession of Vows on June 30, 1939, taking the name Madeline Maria; Final Profession followed on June 30, 1942, at Maryknoll, NY.
Maddie received her Bachelor of Science in Nursing from the Catholic University of America in 1945. After a brief time in Panama, Maddie served three years in Riberalta, Bolivia, a time she called "one of the happiest of my life, (rejoicing in) the simplicity of the people and the primitive life." Community and ministry were in rich harmony. From there, she joined the group opening a hospital in the Buddhist country of Ceylon in 1949, a special call for Maddie and for the Maryknoll Sisters. By that time, Maddie had taken courses through St. Louis University and was granted a Certificate of Proficiency in hospital administration in July 1949. In 1954, called yet again to something new, she was among the Maryknoll Sister pioneers who were asked by Bishop O'Hara to open the first integrated hospital in Kansas City, Missouri, as both the nursing supervisor and hospital administrator. This revolutionary step to overcome segregation at Queen of the World Hospital was a model for other private and public hospitals in the United States.
While there, in March 1965, Maddie and Sr. Chris Donnelly, MM were asked by her black staff to represent the hospital at the famous Selma to Birmingham March—another bonding of Maddie with the lives of the marginalized.
Latin America called yet again and Maddie was, as she said, "dropped into a place 13,000 feet in the sky", serving as Chief of Nurses at the Government Hospital in Puno, Peru, from 1966-1971. Maddie's next mission was as Coordinator and Administrator of our own nursing home at Bethany from 1971-1976. In this dual role, she was much loved by the staff and sisters there.
Maddie's assignment to El Salvador in 1976 began a mission chapter that from then on defined her life. She settled in the pueblo of Lamatepec in Santa Ana, a place paradoxically home to both violence and deep faith, increasingly steeped in every kind of human suffering. The killing of Monsignor Romero in March 1980 was sign and symbol of the deepening shadow of violence.  Maddie was alone in Santa Ana and sought other Maryknoll Sisters to come to live and work with her. Ita Ford and Carla Piette came from Chile in early 1980 and, at the request of Bishop Romero, settled in Chalatenango about two hours from Maddie.  Maura Clarke joined Ita after Carla was tragically killed in a flash flood in August 1980, and Teresa Alexander came to live with Maddie in the housing project of Lamatepec.  On December 2, 1980, the four churchwomen (Ita, Maura, Sr. Dorothy Kazel OSU, and lay missioner Jean Donovan) were abducted and murdered, but the scope of the tragedy was only discovered when at noon on December 4th a local farmer told his pastor that he'd been "forced to bury four women". A call also came from Peggy Healy confirming the terrible news. Maddie and Terry, along with Christine Rody from the Cleveland Mission Team, were asked to identify the bodies of "four women in sandals and with crosses", and in those moments, Maddie's life was changed forever. The religious and political fallout from those murders touched hearts around the world and impacted forever the justice ministry of the United States Church.
Maddie, in her heartfelt and loving way, became very close to the both Ita's and Maura's families, entering into their joys and sorrows, becoming a wisdom figure for suffering relatives seeking understanding of the religious call to be present and committed to the poor, sharing their lives and ultimately their fate.
The Maryknoll Sisters presence in El Salvador closed for a time after the killings. Maddie felt bad about leaving but was reassured by a letter from Victor, a close colleague, "Sister Madeline, you ought to be very happy because the seed you planted in our poor people…always will be present in our minds and hearts." Maddie did pastoral work both in Guatemala and Yucatan, Mexico, before she eventually returned to El Salvador in 1988 to do work with women until 1992. She came to the Center in 1993 to do social service work in our Residential Care area until 1995 when she became an active volunteer at the Open Door Clinic and St. Anne's parish. She spent a short time in the community in West Haven, Connecticut, and then four years at Monrovia 2002-2006 before returning to the center to the Chi Rho Community, moving to Eden in 2016.
Maddie made her final gift by asking that her body be donated to science and a final missioning ceremony will be held at a later date.
Sister Madeline Dorsey will be interned in our Maryknoll Sisters Cemetery, Maryknoll, New York.
We are grateful for Sister Gloria Ardenio Agnes, MM for presiding at this Communion Service to celebrate the memorial of Cristian Burial.