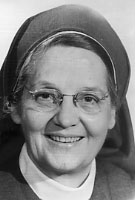 Sister Madeline Sophie Karlon, MM
Born: March 1, 1908
Entered: April 14, 1928
Died: February 13, 1993
"When I see your face, O Lord, I shall know the fullness of joy." (Ps.16) These are words echoing the joy our Sr. Madeleine Sophie Karlon must be experiencing as she meets God face to face. On Saturday, February 13th, at 4:00 p.m. while in Phelps Memorial Hospital, she slipped into God's presence, a moment she has long awaited. Today with joy and amidst the snow, we celebrate here together her passage into new life, her resurrection.
Madeline Clare Karlon was born on March 1, 1908 in New York City to James and Delia Gannon Karlon. She had a twin sister, Mary, who died in 1987, a brother, George, and sister, Kay. In 5th grade under Mother Halliwell, Madeleine Clare had the first indication of an interest in missionary work when she realized that there were children in the world who did not know God. Mother Halliwell, who was later missioned to Japan, used to reward them by reading them stories of the missions. Years later she wrote: "This was the greatest deprivation I could think of. The little money I had went to the rescue of these little souls. I was chosen once to write the letter to Maryknoll to rescue a Chinese baby and name it."
This connection to China was the first in her life and was to be the seed that grew into fullness in ministry to the Chinese in China, Hong Kong, and in Chinatown, New York. She waited until she finished 8 years of grammar school and 2 years in St. Vincent Ferre Commercial High School. Then she worked for 4 years as a stenographer and typist and helped the family "move to a better neighborhood." Even then, "Maryknoll was still in my mind," she wrote. She became further interested through reading "The Field Afar" and other mission literature.
She finally wrote to Maryknoll to express her desire to become a religious "for the salvation of souls to God and for my own salvation." She was accepted but, she admitted that "it was quite a wrench leaving home, especially leaving my twin sister." At 20, she entered on April 14, 1928 and recalled that "life at Maryknoll was hard in those days, hardly enough time for spiritual formation; there were so many needs." Three years later, on October 28, 1930, Sr. Madeleine Sophie was professed and then assigned to the Venard for 4 years where high school and kitchen work filled her time and where she had the "compensation of a loving, trusting Superior".
All these were simply preparations for her assignment to China. By this time, Mother Mary Joseph had already visited China in 1923 and gave her approval for Maryknoll Sisters' direct apostolate there.  In November 1934, Madeleine Sophie sailed for China and in December of the same year, she was learning a new language, a new culture in Maryknoll's new mission among the Hakka people. Then followed two years of initial language study, a new mission in Tsungkow, the city of few conversions, in the Kaying Diocese. She wrote:
We were close to the poor, elderly ladies mostly came for instruction often ostracized by their neighbors for joining the religion of the Lord of Heaven.
The religion of the Lord of Heaven, the Catholic brand of Christianity as distinguished from that of the Protestants, was announced through what was known as the new approach then. Instead of having solely the priest and the male catechist, the sister and her female catechist-companion went to the villages ahead of the priest. The Sisters were sent two by two to the villages and lived in a Chinese house which was often used as the women's catechumenate. Sometimes they found that during the days and weeks of long isolation, often without the sacraments, they needed a different kind of spirituality. They visited and mingled with the women. In the book, Maryknoll in China, Madeleine Sophie recalls the experience of living in a Chinese village, never far away from the constant pressure of the people:
If we were sitting at our window, the lady next door would come and talk to us through the window. Or the lady on the other side of the place would come and talk to us while we were eating our meal.
Another time, her companion-catechist, thinking that Madeleine Sophie would find the long day's walk tiring, hired a sedan chair to carry her. She recalled in amusement that the two porters had barely gone a mile and a half when they complained about her weight and refused to go further. She gladly finished the journey on foot. Sometimes, the women offered to carry her on their backs over the streams. Once the cook actually tried it but the two of them laughed so much as they forded the river that Madeleine Sophie almost fell in the water.
When war broke out between China and Japan, followed by World War II, Madeleine Sophie went to Kweilin to bring Sr. Francis Davis back to her mission but the Japanese blocked their way. All the Americans had to evacuate Kweilin because of the coming of the Japanese so they were flown to Kunming where she met some of her old teachers from high school, 6 Sisters of Charity, and one St. Joseph Sister — all refugees. In 1944 Madeleine Sophie, together with Sr. Rose Leifels and Sr. Francis Davis, were flown to India and there waited for several months until passage was available for 10 missionaries on a U.S troop ship. They spent 38 days on the ocean.
Back in the U.S., she was cleared of a serious health problem and was assigned to Promotion work for 2 years. Then she was assigned to New York Chinatown. In 1947 she left for China again and after 2 years in Kaying, was assigned to Hong Kong where she worked at the Kings' Park Welfare Center (1949) doing refugee and catechetical work. Then in 1951, she worked and "loved the work" with Sr. Mark, now Sr. Theresa Killoran, at Holy Spirit School.
Towards the end of the '40s and in the early '50s, China closed her borders to foreigners and missionaries. Our Sisters trickled out of China one by one. Madeleine Sophie was again assigned back to the U.S. for Promotion work in 1954 and the next year she was assigned to Chinatown. There, she taught kindergarten and did pastoral work. Within the local Maryknoll community, she was also second councillor in 1955 and first councillor in 1958 and 1960.
Her mission years in Chinatown, New York did not pass unnoticed. In 1972, Sister Sa received the "JFK Library for Minorities American Heritage Award" and in 1976, she was honored on the occasion of her retirement at a Farewell Party hosted by the New York Chinese American Senior Citizens Association. The address given commended Madeleine Sophie for having served "with such love and thoughtfulness that her name has become known far and wide among our circles, a name that has earned our high esteem." Shortly before this event, more than 100 people signed an appeal to our Community President, then Sr. Barbara Hendricks, to reconsider her retirement in Monrovia and to allow her to stay in Chinatown, New York.
In 1976, Madeleine Sophie went to Monrovia for retirement but that stay was short-lived. When she returned for the celebration of the 150th anniversary of the parish, the people asked her to return and work with them again. They remembered 20 of those years which she shared with them serving, teaching, and visiting homes. At that celebration, Cardinal Cooke cited her in his homily as the "Mayor of Chinatown".
In 1978 when the approval came for her to continue her work among the senior citizens, she lived with the Sisters of St. John the Baptist in St. James Convent. Finally in 1988, she came back to retire here at the Center.
What was life in community with Sr. Madeleine Sophie? How did Sisters describe her? In her recommendation to the Sisters of St. John the Baptist, Sr. Barbara Hendricks summarized the experience of many that she was a "happy, stable, mature, people-oriented, zealous missioner" who "has demonstrated the ability to live happily in community life". Others say she was an extremely friendly, generous and affable person.
Her reflections show that she devoted much time to prayer, Eucharist and relationships. Here is a Maryknoll Sister, who was well-loved, not only by her own family, but by the people with whom she lived and worked. She was deeply spiritual, evidenced by her writings and her reflections which centered on the Scriptures, the Eucharist, and prayer. She made consistent efforts to deepen her relationship with God and her own sisters-in-community and the people. She was loving, caring, ever-grateful and concerned for and about Maryknoll. In 1991 she wrote to Claudette LaVerdiere, Community President, after having read her report, which she compared to the "State of the Nation" Address. She made her points very clearly: "There were so many needs I wondered how you were going to meet them all." She continues: "When we were in China, Mother Mary Joseph gave us some advice about being sympathetic to the needs of the poor and to talk about these needs and show sympathy for them." One of the ideas she offered was to "speak a little about the work and the efforts of the Senior Sisters (who) made a reputation for Maryknoll bringing it to the success that it is." Truly a promoter, she was also interested in swelling the numbers of our donors and sponsors.
Today, as we celebrate her new life, it is good to note that in Chinese reckoning, she has already passed her 60-year cycle in religious life. For the Chinese, it means that she has completed the 5 cycles of 12 years and life's experiences have earned her the title of elderly, venerable, and the wise. We gather here to thank God for this special life that we have been gifted to emulate. I imagine her grateful heart was glowing as she wrote what she understood as her Maryknoll vocation:
I can only speak the way I feel and have always felt, about being a Maryknoll Sister. It is my response to Christ's invitation, "Come, follow me." It is clear and loud today as it was when He first called and as the call grew stronger through the years.. .Reminding myself that I come — not to be served but to SERVE, as Christ our Lord Himself described it… I keep on trying and giving service to others in the best way I can. I am blessed in that the work I am engaged in, though it is very demanding and saps my strength at the close of the day, brings me in very close contact with needy and forgotten people – and that Christ can touch them in the service I offer.
To celebrate the Liturgy of the Resurrection with us, we welcome our friend and brother Fr. Raymond Nobiletti, M.M., a co-Maryknoll missioner in Hong Kong now pastor of the Transfiguration Parish, where Madeleine Sophie spent 33 years of her active mission life. His presence here and that of Mary Lo and several friends from Chinatown, New York is a touching testimony of the people's fond memory of her. A memorial will be held on Saturday, Feb. 20th, at the same parish for those who wish to join a Chinese Eucharistic celebration in Cantonese. From the beginning to the end of her mission awareness, Madeleine Sophie's love has become incarnated in the Chinese community, no longer only in the children, but as in any life cycle, also in the elderly. Today, we know that her joy and love is complete. We know we can truly say with her, "When I see your face, O Lord, I shall know the fullness of joy."