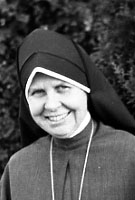 Sister Magdalen Mary McCloskey, MM
Born: July 15, 1906
Entered: December 27, 1935
Died: February 8, 2001
We gather this morning to remember and celebrate the life of our Sister Magdalen Mary McCloskey with whom we have shared faith, mission and our Maryknoll vocation. For twenty years, Sister Magdalen Mary had been a resident in our Residential Care Unit at Maryknoll, New York, where she died peacefully at five o'clock the morning of Thursday, February 8, 2001. Sister was ninety-four years of age and had been a Maryknoll Sister for sixty-five years.
Mary Magdalen McCloskey was born July 15, 1906 in Media, Pennsylvania, the first of four daughters, to John and Julia Ryan McCloskey. Mary Magdalen received her early education at Nativity of the Blessed Virgin Mary School in Media and John W. Hallahan Catholic Girls High School in Philadelphia, Pennsylvania. She began working as secretary to the Director of the State Agricultural Extension Association in Media before graduating from John Hallahan High School and later received a Certificate from the Pennsylvania Department of Public Instruction for completing the equivalent of a four-year high school course.
For eleven years, Mary Magdalen enjoyed her work at the State Agricultural Extension Association yet the thought of religious life kept nagging her. In 1935, she applied for admission into the Maryknoll Sisters Congregation and on December 27th of that same year, entered at the age of twenty-nine, at Maryknoll, New York.
At Reception, Mary Magdalen reversed her name, and throughout her Religious Life was known as Sister Magdalen Mary. She made her First Profession of Vows at Maryknoll, New York on June 30, 1938 and her Final Vows on the same date, three years later. Following Profession, she served as Procurator General, carefully preparing shipments for Sisters leaving for their newly assigned missions. In 1943, as she was completing a shipment to be sent to the Vicariate of the Pando in Bolivia for "two 'veteran' missioners (Sisters Mercy Hirschboeck and Paula Sullivan) and three 'rookies' (Sisters Joan Peltier, Cecilia Ruggiero, and Marie Eugenie Gallagher) and one 'dark horse' (Sister Jeremie Crowley) yet to be assigned." Little did she realize that she herself would be among this pioneer group of Sisters enroute to Bolivia. Sister Magdalen Mary described how she received her first mission assignment:  Mother Mary Joseph was intensely interested in this new mission venture and had accompanied us on several shopping tours. The shipment was ready and waiting for inspection. On July 17, 1943 – a hot, sticky Saturday – Mother called me aside and said: "One of the Sisters (Sister Marie Eugenie) who was to go to Bolivia will not be able to go. We have decided to send you. You will have to get your things together and have them in the cases for the customs inspector on Monday."
On August 8, 1943, Sister received her mission crucifix and "the glorious hour has come." Arriving in Bolivia on September 20th, feeling like a seasoned world traveler, she and her companion, Sister Joan Peltier, continued on what was to be the last leg of their journey to Riberalta. Awaiting them, as they stepped off the two-motor plane from Cochabamba, were the Maryknoll Fathers who had been in Riberalta for one year and a sea of men, women and children who surged forward to give them their "abrazos".
Reflecting on her years in Bolivia, Sister Magdalen Mary wrote: When I went to Bolivia in 1943, a Sister who had spent many years in Korea told me "Go out and visit the people from the first day you arrive. Even though you may not speak the language very well, it will please families in your mission, and you'll learn the language more quickly." I took her advice and have always found home visiting most interesting and rewarding. I find if you sit down and just say, "Well, how's everything going?" you give your host or hostess a chance to let you know – not only their problems but their pride in their kids, their hopes and their sorrows, too. You meet many lonely old people – women taking care of their grandchildren or even great-grandchildren while both parents are in the states working (or perhaps just in Panama City). I find I see the goodness in people which I don't always recognize when I meet them in other situations. So many times a chance visit has made me aware of someone seriously sick in need of spiritual help – or a person wanting and needing sympathy and encouragement. It's hard to measure tangible results – but I think I consider home visits a priority.
In 1953, Sister Magdalen Mary returned to the Center and worked in the Promotion Office for three years before going to Central America to teach Grade 4 in Siuna, Nicaragua. This was a short-time assignment, and seven months later Sister was on her way to Ancon, Panama, where she did pastoral work and parish visiting for three years, followed by another three years in catechetical and pastoral ministry in Juli, Peru and three years in Riberalta, Bolivia. Her ministry in South America was then interrupted when her office skills were again called upon, this time to assist in the Society's Treasury Department.
Returning to Panama in 1971, Sister worked with people whose parents and grandparents suffered and died in building the Canal, did pastoral work in the bi-lingual Sacred Heart parish, coordinated religion classes on elementary and junior high levels, did home visiting and paid weekly visits to a Mental Health Center as well as to the leprosarium. She also taught bookkeeping in the commercial section of St. Vincent's School in Panama City.
In November 1977, Sister Magdalen Mary sustained multiple injuries in an automobile accident and returned to the Center for medical care and therapy in January 1978. Throughout her many years in mission in Central and South America, Sister faithfully lived out her written words: "No matter where I might go I want to be of service in any way in which I am capable, and I know from experience I would always get more from those with whom I work than I would ever give." Sister was truly present to and for all and was seen by many as "having the grand manner of a Queen Mary, [her sisters called her 'Queen Bee'] tall and handsome with flashing eyes and graying, curly hair, but unlike Queen Mary, she never wore a hat!" Sister Magdalen Mary had what the Latins call "presencia."
We welcome our Maryknoll brothers, Father Stephen Wood, who will Preside at this Eucharistic Celebration, and Fathers Thomas Higgins, Christopher Gibbons and John McCabe friends and co-missioners with Sister in Bolivia.
As we begin this Liturgy of Christian Burial, we are also united in prayer and offer our deepest sympathy to Sister's relatives and friends who are unable to be with us today, and lovingly remember our Sisters in the Sudan whose faithful Prayer Partner, Sister Magdalen Mary, will now be interceding for them from Heaven "filled with the utter fullness of God."