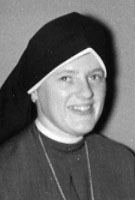 Sister Marcella Fitzgerald, MM
Born: February 15, 1929
Entered: October 14, 1949
Died: February 9, 2008
We gather today as a family to celebrate our 88th Anniversary of Canonical Recognition and to celebrate the entrance into New Life of our Sister Marcella Fitzgerald.
In a deep and sacred moment, Sister Marcella Fitzgerald died peacefully on February 9, 2008, in Maryknoll Residential Care IV, surrounded by our Sisters – many of whom had shared mission with her in Chile – and the lay staff. She was 78 years of age and had been a Maryknoll Sister for 58 years.
Mary Marcella Fitzgerald was born in St. Louis, MO on February 15, 1929, to Cornelius and Loretta (Creely) Fitzgerald. She was one of eight children. She had three brothers and four sisters. Her parents, as well as three brothers and one sister, have preceded her in death.
Mary Marcella graduated from Laboure Catholic High School, St. Louis, MO in 1947. That same year she attended Comptometer Business School in St. Louis and graduated with a certificate in business. Although she felt called to religious missionary life, Marcella knew that the family needed her financial help. For two years she was employed by the Mississippi Glass Co. in St. Louis as a typist and comptometer operator.
Mary Marcella entered Maryknoll on October 14, 1949, in Valley Park, MO. At Reception she received the religious name of Sister Marcella Marie. She made her First Profession of Vows on the 8th of May, 1952 at Valley Park, MO and her Final Profession on the same date in 1955 at Maryknoll, NY.
After First Profession, Sister Marcella was assigned to the Maryknoll Sisters General Secretary's Office. The following year Sister was assigned to the Maryknoll Fathers' Development Department as Supervisor of their sponsors office. From 1957 to 1960 she studied at Maryknoll Teachers College, Maryknoll, NY and received a Bachelors of Education degree.
In 1960, Sister Marcella was assigned to Chile where she was in mission for 29 years. Following her Spanish language study Sister went to our mission in Talcahuano where, from 1962 to 1970, she taught in La Asuncion Parish Grade School. She was both patient and understanding with the students but firm in her approach. Her simplicity and delightful sense of humor won the children's love and favor. One year in Talcahuano, where it was always cold and raining, she knitted a scarf for each child in her class. During her years in Talcahuano Sister Marcella also founded and became the Director of the Commercial Institute. In 1969 she was elected a member of Chile Region's Governing Board. From 1970 to 1973 she served as Regional Coordinator of the Chile Region. She served again on the Regional Governing Board from 1981 to 1983 and also in 1991. This position marked her as an instrument of reconciliation and peace, capable of bridging diversity in political and theological views and perspectives. To this position she brought much wisdom, common sense and courage. She said: "Community life and apostolate should work together. Be open with one another, respect each other's opinions even though they may differ greatly. Work on intensifying the spiritual life in Community through the Eucharist and a spirit of loving service to others. To know, love and serve God and to help others to do the same is our primary task as missioners."
In 1973, in preparation for a new assignment in Congregational Service, she took a course in speed-writing at Sanford-Brown Business School in St. Louis. Then from 1973 to 1977, she served as secretary to the Community President, Sister Barbara Hendricks. In 1979 Sister Marcella returned to Chile this time she served as a pastoral worker at St. Mary Magdalen Parish in Puente Alto. Her work consisted of teaching catechetics and accompanying Basic Christian Communities.
Sister returned to Maryknoll in 1986 to serve as secretary to Sister Louise Ahrens, Community President, until 1990. During this time for two years, she was also in charge of the Sister Associate Program.
When Sister Marcella returned to Chile in 1991, the country was in the throes of the Pinochet military regime. Once again she served as pastoral worker, this time in Santiago and in the nearby area of Huechuraba. Pastoral work and helping form Basic Christian Communities were her favorite ministries, and she was truly effective in these works. Supporting lay leaders and helping in their formation, thus enabling them to assume their proper role in the Church and the community, were of great importance to her and she brought much faith and wisdom to the task. In one of her reflections she shared: "I am very content and happy in my pastoral work and enjoy working with our two dynamic young Chilean priests. The poor people here teach me many things especially in my faith life. My mission is to share the 'good news' of Christ with the Chileans– to form Christian leaders, turn the work over to them, and move on. The people see me as a missioner interested in them and their lives; sharing the Good News of God's love with them. It has always been an inspiration to me to see these simple people wanting to know more about the Bible, and to apply Jesus' message to their daily lives." She continued: "I can only say I probably receive more than I give. It has always been a source of strength to my own faith to live, work and share responsibility with the Chilean people as together we try to live out the Gospel message in concrete ways."
In 1999, Sister Marcella returned to Maryknoll where she again served the Congregational Governing Board this time in the Secretariat, and then as Office Assistant to the Main House Council. She generously gave of herself and shared her talents in administrative work. Her willingness to be of service, her graciousness and good nature, and her love of people and Maryknoll were assets that served the Community very well.
Due to failing health in 2000, she was assigned to the Eden Community in Maryknoll Residential Care IV. There she continued her Chile mission through her prayer ministry and sufferings.
Sister Marcella was a prayerful, loyal and peaceful person. She was truly a gift to many Sisters with her capacity to listen with a compassionate heart and to respond to the needs of others with sound judgment.
We welcome our Maryknoll brother Father Ernest Lukaschek who will preside at this Liturgy of Christian Burial as we rejoice with our dear Sister Marcella in her New Life.