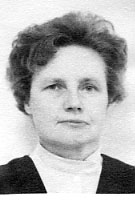 Sister Margaret Dowd, MM
Born: April 26, 1923
Entered: September 6, 1944
Died: November 10, 1995
It is with a mixture of joy and sorrow that we gather to say goodbye and celebrate the Liturgy of the Resurrection. Sister Margaret Dowd, known to all as Meg, died at 5:45 a.m. on November 10, 1995. Our sorrow is that Meg is no longer with us and we will miss her. Our joy is that she has finally been released from so many years of illness and now directly enjoys God's beauty, peace and healing. Meg died quietly, peacefully and without pain.
Margaret Dowd was born in New York City on April 26, 1923. She attended Catholic Elementary and High Schools in New York City and graduated from St. Jean Baptiste in 1941. After graduation, Margaret did clerking work until she entered Maryknoll on September 6, 1944, together with her good friend, Catherine Lennon, known in Maryknoll as Sister Anna Mary, now in Peru. Margaret received the religious name of Sister Ann Patricia at Reception and made her First Profession on March 7, 1947, at Maryknoll, New York, where she also made her Final Commitment on the same day in 1950.
After profession, the first three years were spent working for the Maryknoll Fathers at the Venard and the Council Secretariat during which time residence was at Crichton House. After three years of study, Meg received a RN degree from Mercy Hospital School of Nursing in Chicago on September 11, 1953. Before the end of November she was on her way to Korea; we sailed together, the only passengers on a Merchant Marine ship.
Meg did nursing in the Pusan Maryknoll Clinic where there were thousands of refugees because of the Korean War. In 1958 she returned to the States on an orphan trip which was followed by treatment for an illness. In October 1959 Meg returned to Pusan and resumed clinic work there and in Jeung Pyeong, a rural Maryknoll parish clinic. After 8 months sick leave in Monrovia and decennial until October 1966, Meg returned to the Jeung Pyeong clinic in Korea. She then moved to Bethany, in 1970, to help nurse our Sisters, and also attended Marymount College to receive a BS degree in nursing in June 1974. At the college she was also the school nurse and so covered her expenses. Meg continued her study interests through Maryknoll School of Theology courses and a program in Counseling Pastoral Education in the summer of 1974, all because she wanted to make a contribution to mission and Maryknoll which she so loved.
Until 1976, Meg assisted in the Center Infirmary after which she helped in the Bethany Arts and Crafts Department, volunteered at the Open Door Clinic in Ossining, participated in the Day Care Program at Phelps Hospital and did a variety of needed tasks around the Center. Because of decreased abilities, Meg was admitted to Residential Care, Skilled Nursing Facility on March 1, 1993. During all her time at the Center, those in Health Services assiduously worked to help Meg be active and, in latter years, comfortable. Meg greatly anticipated her golden jubilee of entrance and, even though in a wheelchair, greatly enjoyed the celebration day in April 1994.
Meg's time in Korea was relatively short, but she often mentioned the affection and respect she had for the Korean people. During her years in Maryknoll, we experienced Meg as happy, generous, good-natured and with an easy smile. She was a social person and loved to be with people, especially at a party. Over the years, Meg had some warm friendships. During the long years of growing disability, so many extended a helpful hand, time, patience and frequent words of encouragement. Most outstanding, no doubt, were Sisters Jane Bruce and Patricia Ann Arathuzik, Meg's ever faithful friends. Jane and Pat Ann, we thank you and take the opportunity to say what an example you are to all of us, and how inspirational your long term devotion has been these many years.
It is a time now to be glad. We bring our gratitude for Meg's life and prayers for her, her family and all of us as community to our Eucharistic celebration. We welcome our presider, Korea missioner, Maryknoll Father Michael Duggan. We extend our sympathy to and her family; together we will rejoice in our remembrance of Meg. The hymn, "Eagles Wings," based on Psalm 91, depicts eagles wings as symbolic of God's loving care and the trust we can have in that love. Meg, we send you now to soar in God's love.