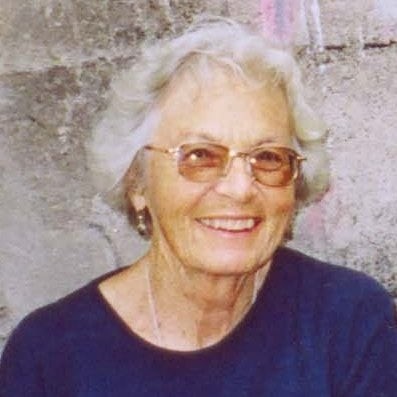 Sister Margaret Kilduff, MM
Born: July 15, 1932
Entered: September 6, 1950
Died: January 24, 2021
On January 24, 2021 at 7:45PM, Sister Peg surrendered into the fullness of God's loving presence, in our Maryknoll Sisters Home Care.  She was 88 years of age and a Maryknoll Sister for 70 years.
Margaret Mary Kilduff was born in Johnston, Rhode Island on July 15, 1932 to Edward and Mary (Coutanche) Kilduff.  She was one of eight children (4 girls and 4 boys), many of whom have predeceased her.  Peg attended St. Anthony's Grammar School and Xavier Academy, in Providence, Rhode Island, graduating in 1950.  Later that same year, on September 6, 1950, she entered the Maryknoll Sisters Congregation, from St. Bridget's Parish in Johnston, Rhode Island.  At her Reception into the Novitiate, she received the name Sister Joanne Maret, which she maintained in Spanish as "Sister Juanita" throughout her religious life. She made her First Vows on March 7, 1953 at Maryknoll, NY and her Final Vows on March 7, 1959 in Arequipa, Peru.  She studied at the Maryknoll Teachers College in New York, from 1952 to 1956, receiving a Bachelor's Degree in Education.
For Peg, mission was a total way of life.  She described mission as a "lifelong love affair with God, committing myself to Be for and to Share Life with others."  In 1956, upon completing her studies, Peg was assigned to the Bolivia/Peru Region. Following language study in Cochabamba, Bolivia, she taught primary grades in Puno, Arequipa and Lima from 1957 until 1965.  From 1966 to 1969 she was engaged in Pastoral and Catechetical work in Arequipa and in various marginal areas of Lima.  In the summer of 1967, she obtained a Diploma in Catechetics at the Catholic University in Santiago, Chile.
From 1969 to 1974 Peg returned to the Department of Puno, where she served in the Rural Institute of the Prelature of Juli.  Here she focused on community development and the education of young women from the rural areas.  This institute was designed to give theoretical and practical courses in family, health and rural education.  Peg saw this service as invaluable in strengthening rural men and women in a sense of their own worth and dignity.
In 1974, Sister Peg was asked to return to New York to work with the Maryknoll Sisters General Assembly Task Force, where she was able to contribute her gifts of creativity, a questioning mind and deepening insights into the meaning of mission.  Following the General Assembly, she applied for the Core Theology Program at the Maryknoll Seminary, graduating in 1976 with a Master's Degree in Religious Studies.
Returning to Lima in 1977, she joined the pastoral team of the Parish of San Cristobal in the marginal area of Caja de Agua where she worked for many years with Father Matias Sicbenaller, the local pastor.  Because of the severe economic situation in Peru, many people from the countryside migrated to Lima, to carve out a new life in the desert. United with the pastoral team, she spent her days' home visiting, strengthening base Christian communities, and educating people in their basic human rights, focusing especially on the rights of workers, visiting prisons, and networking with lawyers. During this time, she also took summer courses in Theology at the Catholic University of Lima.
The years of 1987 to 1997 were a time of increasing social unrest because of the terrorist activity throughout the country.  To respond to this moment of fear, disappearances and assassinations, Peg assisted in building a network of communication through the organization of small libraries throughout the district.
From 1997 to 2007 she continued her Pastoral ministry in catechetics and in human rights, living in another marginal area of Lima, Pamplona Alta. At that time, the new Diocese of Lurin was being established. Besides her contribution to the family catechesis program, and the formation of lay leaders, she created a Communications Office for the Diocese.  In 2007, which she defined as her time of retirement, she initiated a Pax Christi Group in Lima, in coordination with other members of Maryknoll.  It became the first group of Pax Christi in Latin America to achieve full membership with Pax Christi International, networking with the Peruvian Episcopal Commission of Social Action, the Conference of Religious and many other groups.  In 2008, the Coordinator of Human Rights in Peru, awarded to Maryknoll, a National Recognition for their work in Human Rights, especially in Puno, Lima and throughout the country.
As her health began to deteriorate, Peg returned to the Maryknoll Sisters Center in 2015, where she was lovingly cared for by the Staff of the Maryknoll Sisters Home Care.  Peg's passing is a great loss for Peru, for Maryknoll and for all those who loved her.  Always dynamic in her mission, she was ready to respond to the needs of each moment.  As a Maryknoll Sister, her dynamic personality, love of the Peruvian people, passion for justice, gracious hospitality, generosity, and deep reflective prayer were a source of energy and life for all of us as community.  As a continuance of her mission, Sister Peg generously bequeathed her body to science.  Her ashes will be interred at Maryknoll Sisters Cemetery in New York at a later date.