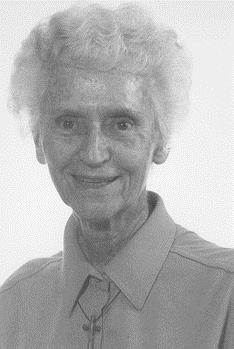 Sister Margaret Lyons, MM
Born: March 16, 1921
Entered: September 6, 1947
Died: January 3, 2017
We gather here today to celebrate the life of our dear sister and friend Sister Margaret Lyons. Margaret died on January 3, 2017 in our Maryknoll Home Care Facility.
Sister Margaret, Marjorie Ann Lyons, was born in South Boston on March 16, 1921. She was one of six children of John Lyons and Margaret Davitt Lyons. Her parents, two brothers and three sisters with whom she always maintained a very close relationship, have all predeceased her. She was 95 years old and a Maryknoll Sister for "69 very fruitful and happy years" as she told us last year.
After graduation from Quincy High School, Marjorie Ann worked as an accountant for eight years.
As she was reflecting on her life choices she visited her sister Marie, at that time a Maryknoll Sister. Walking around the Motherhouse, she saw a map of the world with all the Maryknoll Sisters Missions and a sign on it: "The harvest is great, the laborers are few." She said to herself, "Well, I'm a laborer; I like to work." She had made her life choice. She entered Maryknoll on September 6, 1947, received the habit six months later, and the religious name of Sr. Margaret John in honor of her parents. She made her First Profession on March 7, 1950 and her Final Profession three years later.
Her first assignment was to work in the Treasurer's Office. Two years later, she continued her service in the Bookkeeping Department of the Maryknoll Magazine. In 1954 she was assigned to Maryknoll Teachers' College. At that time, she wrote a note to the leadership saying she was grateful for the opportunity because, "I think I will like teaching." She graduated from Maryknoll Teachers' College in 1957 and was assigned to Chile.
She remembers very much enjoying her years as an elementary school teacher in the lower grades in three different schools in Chile. After Vatican II, with the emphasis on pastoral work, she spent the next 13 years preparing parents to teach their children about their faith and organizing small Christian Communities among the poor people in the outlying areas of three large cities. She characterized her time as spent "helping people to reflect on how to live their daily lives".
In 1988, after some years of frequent health problems, she asked for a transfer to a warmer climate and was assigned to El Salvador. There she continued her pastoral work, scriptural reflection and home visiting. Sharing about her life in Salvador she said, "Most of all I enjoyed being a good neighbor."
In 1994, as her health continued to deteriorate, she asked to transfer to Monrovia, the Maryknoll Sisters retirement residence in California. At the same time she said, "It was always my dream to spend more time in prayer as I grow older and I have many friends there." The climate in California proved favorable and she spent 18 very active years at Monrovia, helping in the local parish and in the house.
In 2006, she chose to return to the Maryknoll Center in New York. Always ready and willing to make a change and ever true to her belief "mission is a total way of life," she said, "I am taking one step at a time. I am still in mission. Mission means people to me, not place."
As we participate in this celebration of her life today, many of us will remember that we were witnesses to her dedication to mission and to her Maryknoll community.
We are happy to welcome several of Sister Margaret's relatives and friends with us here today. We also welcome Fr. Ernest Lukaschek, our Maryknoll Brother, who served as a Maryknoll missioner in Chile and who will celebrate the Mass of Christian Burial for our Sister Margaret.