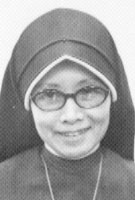 Sister Margaret Marie Jung, MM
Born: March 20, 1915
Entered: December 19, 1936
Died: February 10, 1991
Today, a few days before the Lunar New Year, we gather together to celebrate the new life of our Sister Margaret Marie Jung. Sister passed away in the Maryknoll Nursing Home on Sunday, February 10, 1991 at 2:35 p.m.
Margaret Marie Jung or Edna Jung Gwai Muhn, whose Chinese name means a cinnamon flower in full bloom, was born on March 20, 1915 in San Francisco, California to Peter Jung Gam On of China and Dang Choy Yee of California, the fifth of eight children: three sons and five daughters. She was a convert inspired by her 8-year-old sister Emily, then in Grade 2, whose baptism led to that of her father, Margaret Marie, Christina Marie, brother Frank, and later, her mother. Margaret Marie took instruction and was baptized on May 5, 1934. She became a devotee of Mary and a Grand Regent of the Court of Our Lady of China of the Catholic Daughters of America. She attended the High School of Commerce in San Francisco from 1934-36. She had applied to join the Little Sisters of the Poor but was refused entrance because "she was a convert." Applying for entrance in Maryknoll, Margaret Marie had this to say as to why she wanted to be a missionary: "for the salvation of souls, to work out my own salvation, and for the greater glory of God."
Soon, she entered Maryknoll on December 19, 1936. On June 30, 1939, Margaret Marie made her First Profession. She also finished her High School studies at The Venard before embarking on her first assignment overseas: Hong Kong. She had felt that she "would be most useful there among my own people," that is why she preferred the work of a foreign mission community. In Hong Kong, she served her people in a TB Clinic as interpreter and receptionist and did hospital visiting from 1939-41. A year later in China, she made her Final Profession. Margaret Marie stayed in China during the Second World War, transferring from one mission to another as the Japanese advanced on Chinese soil. She worked as a Primary School teacher in Ping-nam, Kwangsi, as a nurse in a rural general hospital in Chao-tung, Yunnan in the Woochow Diocese and as a catechist in Ng Fa City and Shui Chai in the Kaying Diocese. She was in Ng Fa working with Bishop Francis X. Ford when the Communists took over in 1949. For two years until 1951, Margaret Marie and five other Maryknoll Sisters were held under house arrest until the other Sisters were expelled while Margaret Marie was not allowed to leave China until the next year because of her Chinese background.
Back in the United States, she was assigned to Transfiguration Parish in New York City from 1953-54. A year later, she returned to Hong Kong where she worked with refugees in King's Park, taught school in Tai Hang Tung, and engaged in catechetical work in Sau Mali Ping.
After 13 years in Hong Kong, Margaret Marie returned to New York to attend Rogers College where she finished a Bachelor of Science in Education, Major in Elementary Education. This time, she asked to be assigned to Los Angeles. She wrote: "Whether or not they will or will not have the grace of baptism is up to God, but I think I should do my best and help them understand life in terms of the Gospel attitudes and values and to love them." She added, "I would like to learn the Japanese way of life, their attitudes, and values." She taught 4th Graders in Francis Xavier Japanese School from 1971-73. Margaret Marie taught Adult English to Japanese students, then moved to Corpus Christi, Texas where she taught 4th Graders in St. Teresa's School in 1975-77 trying her "luck with the Spanish-Mexican Americans." After a year at the Center doing work in the sacristy and library, Margaret Marie taught in St. Stephen's School in Kearney, New Jersey from 1978 to 1980.
Through these years, the changes in the Church ushered in by the Second Vatican Council were not easy on Margaret Marie. In 1972, she wrote to Sister Barbara Hendricks, then President of the Maryknoll Sisters Congregation: "From the time I entered Maryknoll, one concern gave me inspiration to drive forward – to set up tabernacles for Jesus among those who knew Him not. Whether the tabernacles were of wood or stone or metal or flesh, it kept me afire throughout my mission apostolate. Since Vatican II," she continued, "I could sense my principal concern evaporating, yet nothing was forthcoming to replace it. After seven years of turmoil, the theme of Reconciliation made sense to me. For this, I thank you, dear Sister Barbara. I want to shout 'Eureka', the Lord preserve you." From the meditation on Searching and Sharing, she found some sense of Maryknoll Community, a corporate response, a direction. "Suddenly," she disclosed, "everything is converted into its opposite: darkness into light, enslavement into freedom…but this is my personal choice. What I like is something community-wide."
We take this inspiration from Margaret Marie's life as we look forward to other changes in our world and Church today. For her, this reconciliation pulled her through the remaining years of her life. She had updating through various CCD Correspondence Courses for Adults in Catechetics and Religious Studies from the Diocese of Wichita, Kansas and other places.
In 1980, she asked to be transferred to the Center as a senior Sister, having reached the age of 65. For six years she worked in the International Gift Shop doing part-time work in the Treasury Department and finding time to volunteer to teach Reading in Brookside School in Ossining, New York. In 1986, Margaret Marie crossed the golden line in Maryknoll. A year later, she requested to join the Sisters in Monrovia in order to be closer to her sister Aileen in San Francisco. She stayed there until 1988 when her health began to fail. She was then transferred to the Maryknoll Nursing Home where she saw herself as being "in prayer mission."
On her trip from Hong Kong to join her sister, Christina Marie brought a couplet to give to Margaret Marie. Yesterday she put these two small red paper banners in the casket that the Chinese would attach to both sides of the door during the Lunar New Year. One says: "Luhngmah jingsahn" which means: "May the spirit of the dragon and the horse be with you, the spirit of strength and life, of enthusiasm and of energy." The other says: "Fuksauh hongnihng" which means: "Blessings, longevity and health come upon you." Enjoying all of these in her new-found life, our Sister Margaret Marie surely wishes all of these for us: the spirit of strength and life, longevity, health, and all other kinds of blessings.
We welcome our Maryknoll brother, Fr. Tom Egan, who is here with us to celebrate the Eucharist of the Resurrection.