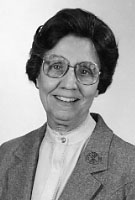 Sister Margaret Mary Bradley, MM
Born: June 23, 1918
Entered: December 8, 1935
Died: November 21, 2007
"May God give me the power through His Spirit
for my hidden life to grow strong. Then planted in
love I will be able to grasp the breath, the length,
the height, and the depth until knowing the Love of Christ
I am filled with the fullness of God" Eph. 3. 16-18
Sister Margaret Mary Bradley was herself the personification of these words of Scripture, not only through the example of her life, but also through her influence in the life of others. By her wise counseling, guidance, and delightful sense of humor, she accompanied many during retreats and spiritual direction on their life's journey. Sister Margaret Mary was one of those persons who listened graciously and with great understanding. Through her deep spiritual life, rooted in Scripture, her prayerful attentiveness to the presence of God, her selflessness, and constant search for an ever-deeper knowledge of God, she made God's love visible to others. She was truly a contemplative in action. When asked what elements were most important in a life of prayer she said, "The consciousness of God and the fulfillment of God's Will and complete forgetfulness of self."
Sister Margaret Mary peacefully entered her New Life, surrounded by a number of Sisters, in the early afternoon of November 21, 2007, in Maryknoll Residential Care III. She was 89 years of age and had been a Maryknoll Sister for 71 years. Now filled with the fullness of God, she knows at last the depths of God's love.
Margaret Mary Bradley was born on June 23, 1918 in the Bronx, New York. She was the daughter of Alice Collins Bradley and William Bradley and had two brothers, John and William. She attended St. Peter's High School on Staten Island, for three years and in 1939 graduated from Maryknoll High School "The Venard" in Clarks Summit, Pennsylvania.
Margaret Mary entered Maryknoll on December 8, 1935, from St. John's Parish, Bronx, New York. At Reception she received the religious name of Sister Rose David. She made her First Profession of vows on June 30, 1938 and her Final Profession of vows on the same date in 1941, both at Maryknoll, New York. Margaret Mary's quest to improve herself led her to undertake a variety of studies. In 1943, she received a Bachelor's degree in Education from Maryknoll Teachers College, Maryknoll and in 1968 her Master's degree in Pastoral Counseling from Iona College, New Rochelle, New York. She pursued studies in Theology and Scripture at Manhattan College, New York. and also at the Maryknoll School of Theology, Maryknoll.
When Sister was assigned to direct the formation of young Sisters, she enrolled in courses in Sister Formation and Spiritual Direction, as well as Canon Law, at Misericordia College, Dallas PA. She also pursued studies in the use of the Myers/Briggs and Enneagram Personality Indicators. These studies served her well in counseling and spiritual guidance.
In 1944, Margaret Mary, was assigned to Wailuku, Maui, HI where she served as a Grade and High School teacher and Vice-Principal at St. Anthony School, Maui. She was an efficient, diligent and caring teacher. Her classroom, always tastefully decorated, reflected her artistic taste and talent. Her discerning eye quickly spotted teenagers in need of attention and guidance. Several of her students have kept contact faithfully throughout the years. Today, some 40 years later, they gratefully remark, "She was my dearest friend, who helped me in some of my most difficult moments, not only in school but throughout my life."
Sister Margaret Mary was assigned to Maryknoll as Assistant Junior Mistress and then Junior Mistress in 1964. Then in 1967 she became Assistant Novice Mistress. A year later she assumed the responsibility of Vocations Director until 1970.
For many years,Margaret Mary yearned to join the Cloister. She longed for a more contemplative life to be able to grasp the breadth, the length, the height and the depth of knowing the love of Christ. In 1949 she asked for an assignment to the Cloister and during the following years repeatedly made the request. Ten years later when asked the reason for making the request, she said, "I feel God has given me this particular type of vocation. Whether God desires this to be fulfilled in or out of the Cloister, I do not know. Yet I feel I must ask for this assignment. The life of contemplative prayer, the idea of fulfilling our mission apostolate through contemplative prayer, is my longing." During the years she requested to be assigned to the Cloister something else was always asked of her and she responded with a willingness to serve the Community's need with refreshing creativity. One of our Sisters wrote, "Your love for God is so true and deeply personal that you respond wholeheartedly to whatever is asked of you." In 1970, her dream was finally realized and she went to the Cloister for a period of six months.
Margaret Mary held a number of important positions at the Center. In addition to her work in Sister Formation, she served as the Chairperson of the Center Unit Governing Board from 1971-1975 and as a staff member of Maryknoll Mission Institute from 1976 to 1979. During this time she also helped the Sisters of Social Service in Buffalo, New York. with their Chapter and in the implementation of their Chapter decisions. In appreciation the Sisters wrote: "We would like to express our gratitude for the invaluable services of Sister Margaret Mary Bradley. Her presence and skills especially in preparing liturgies contributed to a very great degree to the spiritual atmosphere and success of our chapter. We are also very grateful to her, for helping us formulate what we wanted to say in our position papers. Without her, we could not have put our ideals and ideas into a contemporary form. Thank you for sharing with us your Community's riches in her person."
In 1980 to 1981, she was Co-Director of the Maryknoll Fathers  Discernment for Mission and Mission Renewal Programs. Her love of prayer, her talent for creating beautiful liturgies, and organizing meaningful renewal programs provided a lively spirit among the participants. During the years from 1982 to 1985, she was the Coordinator of Maryknoll Sisters Associate Program at which time she expressed the following: "During the last 22 years during which I have been on Congregational Service, I have been involved in a variety of ministries. I must say, however, that though each ministry brought its own challenges and joys, it was the work with the Sister Associates that I most enjoyed."
Sister was a staff member of the Maryknoll Sisters Congregational Personnel Department from 1987-1994. She did counseling, spiritual direction, retreat work, administering and interpreting for groups and individuals the Myers/Briggs and Enneagram Personality indicators. Margaret Mary was always present to each Sister with love, concern and understanding. During this time, she also was on Family Ministry taking care of her aging and ill mother.
Poor health required Margaret Mary to retire from active ministry, and in July 2003 she was assigned to the Eden Community until her entrance into New Life. Her prayer ministry during these years was the Contemplative Community.
We offer our condolences to Sister Margaret Mary's family and friends. We also offer our condolences and gratitude to the Residential Care Staff for their kind and loving care of Sister during her illness.
We are grateful to our Maryknoll brother Father Lawrence Lewis who will preside at this Liturgy of Christian Burial.