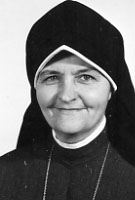 Sister Margaret Mary Cannon, MM
Born: March 30, 1908
Entered: October 15, 1925
Died: September 4, 1994
Among our members, Sister Margaret Mary Cannon was known as one of the kindest, gentlest and most-welcoming Sisters. Her presence among us will long be remembered in life as in death. Margaret Mary, at the age of 86 and after 69 years in Maryknoll, died at 6:50 a.m. September 4, 1994. Margaret Mary's smile lit her face and our hearts these many years, and we shall fondly remember her. We are happy to have with us our Maryknoll brother, Father Jerry McCrane, as Celebrant of our Liturgy.
Margaret Mary Cannon was born on March 30, 1908 in New York City to Anna Kelly and Thomas Cannon of St. Veronica Parish. Both parents have been long deceased as have Margaret Mary's two sisters, Angela and Mary, and her brother Thomas, a Jesuit priest-missioner in the Philippines. Margaret Mary attended Holy Cross Academy Elementary and High School in New York City and graduated in 1925.
The same year, on October 15th, Margaret Mary entered Maryknoll. At Reception she received the name Sister Mary Stanislaus. In later years she resumed the use of her baptismal name, Margaret Mary. First Profession took place at Maryknoll on April 30, 1928. The same year she was assigned to Hawaii and made her Final Profession in Waliluku on April 30, 1931.
From 1928 until 1939 Sister Margaret Mary taught grammar school at Wailuku, Kalhihi and Punahou. In 1948 she was assigned with the first group of Maryknoll Sisters to go to Africa: destination, Kowak, Tanzania. From 1950 to 1965, Margaret Mary taught at San Juan Capistrano (California) Grammar School, and was Sacristan of the Church. In 1965, she taught at St. Anne's Grammar School in St. Louis, Missouri. Her long mission experience also included many years of summer school, beginning in 1928 at Catholic University, the University of Hawaii, the Honolulu Branch of Maryknoll Teachers' Training School and finally, Maryknoll Teachers College in New York where she received a Bachelor of Education degree in 1948.
In 1966, Sister Margaret Mary returned to Maryknoll where she worked in the Salesroom and Vestments Department, the Archives, and did volunteer work for Center Council. As her health declined she moved to Assisted Living in 1989 where she remained until it was necessary for her to move to our Skilled Nursing Facility in June 1994.
Sister Margaret Mary, in her healthier days, was always busy with creative hobbies and generous service to others. In a quiet way, she showed thoughtfulness and sensitivity to others. Her graciousness in and out of the classroom was much appreciated by both her students and parents. Throughout her years, Sister Margaret Mary shared a consistent and kind sense of humor.
Margaret Mary also inspired poetry, a mark of the esteem in which she was held. In 1987, Sister Elizabeth Terbrock, M.M. wrote the following poem:
Margaret Mary, The Flame-Winged Monarch
We met in a large room where breezes lingered
though the sun climbed toward noon, gathering heat,
and in our conversation the soft lines of your face
traced the contour of some winged creature,
golden and waiting to burst her wrappings for flight.
Now, evening air coaxes a monarch butterfly into the open.
I, too, search among the pine branches for coolness and discover her,
spreading then folding her wings
like breaths: inhaling light from a sun that streams through her
as through temple windows stained golden.
She rests on a low branch and
we visit a long time, wordless, until I call her by your name,
recognizing your face and
your wings: windows of a temple
that houses the holy flame.
Margaret Mary's suffering of frailty and a marked decline in health in recent years is now over. We rejoice that she rests in the peace she now enjoys with God. Let us remember Sister, her family and one another in our prayers. May our coming together today deepen our faith in the Resurrection as we take part in our Eucharistic Celebration.