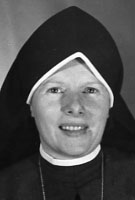 Sister Margaret O'Brien, MM
Born: September 8, 1920
Entered: September 2, 1952
Died: January 2, 2004
"I prayed and understanding was given me; I called upon God and the spirit of wisdom came to me." These words from the Book of Wisdom describe what must have been the source of strength for our Sister Margaret O'Brien, whose life we celebrate today in this Mass of Resurrection.
Margaret died at Phelps Memorial Hospital on the evening of Friday, January 2, 2004. She was admitted to the hospital on Tuesday, December 30. Sister Agnes Christine Welscher, a member of Margaret's entrance group, was with her until shortly before her death, sitting, praying and singing for Margaret their entrance group song. For the past several years, Margaret's health had not been good. Following major surgery in 1995, Margaret recovered and continued to be up and about. She appeared frail, but still she was always cheerful and interested in knowing what was going on. At the time of her death, Margaret was eighty-three years old and had been a Maryknoll Sister for fifty-one years.
Margaret Josephine O'Brien was born in Toronto, Ontario, Canada, on September 8, 1920, to James and Bridget McNiff O'Brien. She was the eldest of four children. Margaret seemed to know and was prepared and ready for her last days. At the end of November 2003, whether through intuition or by the inspiration of the Holy Spirit, only God knows, Margaret wrote her own name, "Sr. Margaret J. O'Brien, M.M." in our Remembrance Book in the foyer outside the Main Chapel.
Her parents brought Margaret to New York as an infant in 1921 and she became a United States citizen when her father was naturalized in 1928. The family settled in Brooklyn, New York, where Margaret completed elementary school and graduated from Bishop McDonnell Memorial High School in 1939. She studied nursing at St. Mary's Hospital School of Nursing in Brooklyn. During World War II, from October 1942 until February 1946, Margaret served in the Army Nurse Corp., nursing in New Guinea, Japan and the Philippines. It was during those years that Margaret first felt the desire to be a missioner. After the war, she took graduate nursing courses part time at Fordham University and worked at St. Mary's Hospital in Brooklyn as supervisor and clinical instructor in the operating room. All who worked with her – nurses, doctors, chaplains – held her in high esteem.
Margaret entered Maryknoll from Immaculate Heart of Mary Parish in Brooklyn on September 2, 1952. She made her First Vows at Maryknoll, New York, on March 7, 1955, taking the name Sr. Marie Gerard. She made her Final Vows in Tanganyika on the same date in 1961.
After assignment to Africa in 1955 and for thirty-two years, until 1987, Margaret served the sick in Tanzania. She worked at Rosana, Nyegina, Musoma and Kowak in the Diocese of Musoma. She did medical safaris, organized mobile clinics, ran dispensaries and did health education and natural family planning. In addition to this, she took care of the health of Maryknoll Sisters, Fathers and Brothers. She is described as dedicated, practical, levelheaded, efficient, responsible and very knowledgeable about her profession. Margaret was an excellent nurse and one of the best diagnosticians, especially of tropical diseases. She was a whiz with a microscope. She would sit with her microscope at the time of Maryknoll Sister meetings, examining blood slides to see if the Sisters' red blood cells showed signs of malaria! Margaret was generous and hospitable, giving full attention to each person and full of fun. She traveled around Tanzania with loads of correspondence which she answered while waiting for ferries and in the margins of the days. She is famous for these letters and notes and her prudent use of recycled cards and envelopes.
Her nursing skills were put to use at our Maryknoll Sisters Center as well. She did Congregational Service at the Maryknoll Nursing Home in the 1980's as staff nurse and in the Congregational Health Unit in the 90's. She worked as medical records clerk and special needs nurse in foot care. In 1993, due to increased health problems, she was assigned to the Center where she served as Sacristan and Eucharistic Minister in our Residential Care Unit. She was admitted to the Assisted Living Unit as a resident in 1996.
In a 1981 letter to Sr. Melinda Roper, the President of the Maryknoll Sisters, Margaret thanked the Central Governing Board for their service after the deaths of the four church women in El Salvador. She wrote, "When I leave on July 3rd (for Tanzania), I'll be a far richer lady than when I came – rich in the intangible and aware of how the Spirit is working hourly. I'll never be the same again and that's what it is all about."
We join together today with all Maryknoll Sisters, all the women, men and children, Margaret's friends, neighbors, and co-workers in Tanzania and the Maryknoll Sisters in the Tanzania Region, to rejoice with her as she enters into eternal life. We thank all those who have been helping Margaret in Assisted Living. Margaret wrote once that she always found it comforting to know that "God fits the back to the burden." Your back, Margaret, was fit to your burden and now your burden is lifted forever. Yes, Margaret, you will never be the same again.
We are grateful to have with us our Maryknoll brothers, Father Carl Meulemans, who will preside at this Mass of Resurrection and Father Carroll Houle, who will give the Homily.