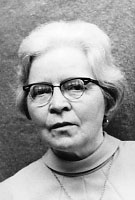 Sister Margaret Rooney, MM
Born: February 3, 1912
Entered: December 23, 1937
Died: June 12, 2008
It was early in the morning of June 12, 2008, that we learned Sr. Margaret Rooney was slowly wending her way to God. About 12:30 p.m. after a visit by Sr. Joan Malherek, our Maggie died in Residential Care IV tended by those who had cared for her for so long. That place which Jesus had gone to prepare is now hers, and she knows the wonderful fullness of God's love.
Margaret Josephine Rooney was born on February 3, 1912, to Anne (Kerrigan) and Patrick Rooney in Manorhamilton, County Leitrim, Ireland. She was one of eight children, four boys and four girls. All of her siblings predeceased her. Maggie's family lived on a farm, and when her father died in 1924 her brothers were placed on nearby farms to work. Five years later her mother and she, along with her sisters, moved to Montreal, Canada.
In Ireland Maggie was able to finish seventh grade and then in 1935 she studied in the evenings at the West End Business College in Montreal. It was not until 1966 that she graduated from High School in Santa Maria, California, at the age of 54! In 1969, she earned an Associate of Arts degree as a Licensed Practical Nurse from Pasadena City College, Pasadena, California.
Maggie entered the Maryknoll Sisters on December 23, 1937 from St. Patrick's Church in Montreal. Fr. Gerald McShane, the pastor, highly recommended her though he would have preferred she enter a Canadian missionary community. He mentioned that he had been a personal friend of Bishop James Anthony Walsh, MM for thirty five years.
At Reception Margaret was given the name of Sister M. Anne Therese. Her First Profession was at the Motherhouse on June 30, 1940 and her Final Profession at Monrovia, California, June 30, 1943. She had been assigned to Monrovia earlier in 1943 to serve as a nursing assistant at Maryknoll Hospital, the TB hospital the Maryknoll Sisters administered at that time.
In 1949, Maggie became a citizen of the United States. Her flexibility and graciousness in serving where there was a need is exemplified in the many assignments she was given to help in houses in Monrovia, Mountain View, San Francisco and Guadalupe, California, Seattle, Washington, Houston, Texas and Albuquerque, New Mexico. Twice she served at Bethany and the Center. While in Guadalupe, California, she was Local Superior for her eight years there. In general her assignments ranged in length from two to nine years. During these years she served as cook, housekeeper and nurse. She was always known for her wit, friendliness, hard work, prayerfulness and earnest approach to life: all of this lightened by humor and an Irish brogue that caused many to request a repeat.
In 1969, Maggie was assigned to Guatemala where, once again she stayed for only a couple of years. During this short time she endeared herself to all. In 1984, she was assigned to Oaxaca, Mexico, where she worked in Basic Christian Communities for seven years. On her return to the US, she asked to retire at Monrovia, California, where she resided for the next eight years. During this time she was given the opportunity to go to Ireland for the first time since she had left some fifty years before. One of her sisters had returned there much earlier to enter religious life, and her brothers had never left.
Maggie was assigned to the Center in 1999 because walking had become a problem and her vision was limited. She was assigned to the Assisted Living Unit under the Main House Community and in 2004 was assigned to the Eden Community. In 1978, Maggie had asked to spend a year at our Cloister. There is no indication of what happened to the request but at the time, she simply moved on giving nursing service at the Center and at Bethany. Now, in the Eden Community she was free to give the time to prayer and contemplation she had desired earlier. Her prayer ministry has been Mexico.
We are most grateful to our Sisters and Staff who cared for Maggie and to her family who visited her when they could. We express our condolences to her family and friends.
We welcome our celebrant, Maryknoll Father Robert Depinet, who will now preside at our Liturgy of Christian Burial.