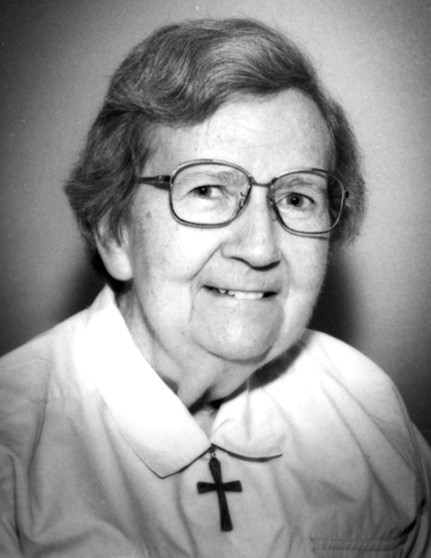 Sister Margaret Tryon, MM
Born: July 28, 1928
Entered: October, 30, 1947
Died: January 28, 2019
Sister Margaret Tryon died on January 28, 2019 at the Maryknoll Sisters Center in Maryknoll NY.  She was 90 years old and a Maryknoll Sister for 71 years.
Margaret was born July 28, 1928 in Eddington, PA, one of five children of Dorothy R. (Smith) Tryon and William A. Tryon.  Margaret attended Bristol High School and graduated from Nazareth Academy in 1946.  She worked as bookkeeper and clerk at William A. Tryon Company in Croydon, PA and at John J. Nesbitt, Inc. in Philadelphia, PA.
She entered the Maryknoll Novitiate at Valley Park, MO on October 30, 1947 from St. Thomas Aquinas Parish in Croydon. PA.  At her Reception she received the religious name Sister Mary Dorothy Francis, which she used until Vatican II.  Her First Profession of Vows was on May 8, 1950 in Valley Park, MO and her Final Profession on May 8, 1953 at Maryknoll Sisters Motherhouse, NY.  After her First Profession Margaret attended the State University of New York and received an Associate's Degree in Applied Science with a major in Food Service Administration in 1952.
After Final Profession, Sr. Margaret was assigned to the Hawaii Region.  She taught Home Economics and English for five years at Maryknoll School, Punahou.  She was assigned to Majuro, Marshall Islands in 1958 and taught at Assumption Elementary School for four years.  Margaret returned to Maryknoll, NY in 1962 and received her Bachelor of Science in Education Degree in 1963 from Maryknoll Teachers College, Maryknoll, NY.  She happily returned to the Marshall Islands where she enjoyed being with the Marshallese and learned more about their culture.  She enjoyed the students' light heartedness and adaptability.
The policy then was to rotate the Sisters between Hawaii and the Marshall Islands, so in 1967 Sr. Margaret returned to Hawaii for a year and taught in Waikiki.  The next year she returned to the Marshall Islands and continued to teach and was involved in teacher training.  She wrote, "Being in the Marshall Islands, one realizes that there is more to life, than money and riches.  The people live simply and close to God."  Margaret gave service at the Maryknoll Sisters Center in 1971 and for one year served as liaison to Saga Food Service.  She received a letter of gratitude for responding with much love and dedication.  In 1972, she returned to the Marshall Islands.
In 1974, Margaret returned to Hawaii for surgery.  This was the beginning of her experiences of poor health.  She wrote: "I've always felt for me out here, (Marshalls) that sickness was God's means for giving me extra time to pray and come closer to Him."  She spent some time in Hawaii and realized that she would not be able to return to the Marshall Islands.  She returned to the Maryknoll Sisters Center and gave two years' service in the library.
She returned to Hawaii in 1978 and lived in Kalihi Valley Homes Project until 1985.  Most of her time was spent responding to the needs of the 400 families – whether it was for food, clothing, or teaching young mothers to read.  Most of all she lent a sympathetic and understanding ear.  In 1980 and 1983, Margaret received awards from Hawaii Housing Authority for her active, cooperative participation and service in the community and in appreciation and gratitude for her fine community spirit and generosity.
She spent two years in family ministry, and in 1988 she returned to the Maryknoll Sisters Center and for two years was the Director of Activities in Maryknoll Sisters Home Care.  She returned to family ministry for the next two years.  Margaret wrote: "Only the Lord knows if and when I'll return to the Center.  In the meantime, God is preparing me for something."  She returned to Hawaii in 1993 and spent five wonderful years working with women and being involved in prison ministry.  She conducted weekly communion services at the Women's Correctional Center.  Her creativity and energy was seen especially in her ministry in Walking with Women.  She belonged to the National Convocation of Jail and Prison Ministry and protested against the death penalty outside the Supreme Court in Washington, DC.
In 1998, she returned to New York for Renewal.  By her 70th birthday she experienced a number of major health issues, so it was decided she remain at the Center.  It was hard for her to leave the Central Pacific Region, but a few years later, Sr. Irene Solzbacher accompanied Sr. Margaret to Hawaii so she could say good to her friends.  She kept the Central Pacific Region as her prayer ministry as one way of staying connected.
Margaret had a good sense of humor and in these last years when she was confined to her bed, she kept herself occupied with prayer, reading, and puzzles.  She was very patient and always had a smile.  She knew she was in the hands of a God who loved her.  We welcome Father David LaBuda, MM who will preside at this Memorial Mass.