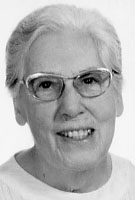 Sister Margaret Virginia Rust, MM
Born: October 24, 1904
Entered: April 30, 1924
Died: February 16, 2005
"Remember your mercies, Lord, your tenderness from ages past."
This was the entrance antiphon for the Mass on February 15, 2005, the day of our Sister Margaret Virginia Rust's entrance into new life. Around 2:00 p.m. we received word that her condition was changing and a vigil was begun. At 6:30 p.m. she slipped peacefully away from us in Maryknoll Residential care, her 100 years, three months and twenty-two days of life brought to a close. With her when she died were Sisters Ann Hayden, Jeanne Rancourt, Kathleen Skenyon and Helen Wilde.
Today, as we celebrate Sr. Margaret Virginia's Mass of the Resurrection we remember her family, mother, father and brother. We extend our sympathy to her family and friends.
Born in Olean, New York on October 24, 1904, Margaret Virginia was the second child of Robert and Anna Sullivan Rust. Her brother, Paul, became a priest in the order of the Oblates of Mary Immaculate. In 1963, soon after Sister was assigned to San Francisco, Father Paul was able to gift our Community with $5,000. toward the indebtedness of the recently purchased Broadway Street house where his sister was superior and wonderful hostess to our Sisters traveling to Asia.
Margaret Virginia was raised in Olean and in Buffalo. Facts in her file are sparse. Even her birth certificate could not be found here nor in a search of the files in Olean when she approached her 90th birthday. The locations of her vows are not noted, though the dates are. I found this dearth of information cause for some reflection in that I had lived with Sister in San Francisco and found her ever so kind to us in the community and to our travelers, but I realize now that I know very little personal information about her.
What we do know is that Sister graduated from Mount Mercy High School in Buffalo and entered the Maryknoll Sisters on April 30, 1924 from Holy Family Parish. She made her First Vows on April 30, 1927, presumably here at the Center. She was assigned that year to Hawaii as part of the first group to go there. Until her death she was the last living member of that group. Sister Margaret Virginia left the Maryknoll Sisters in 1928, only to re-enter on October 14, 1929. She made her First Vows again on January 6, 1932 here at the Center. The following year she was assigned to Los Angeles where she made her Final Vows on January 6, 1935.
From Los Angeles she was assigned in 1936 to Mountain View, to the Center in 1938, back to Los Angeles in 1941 and on to Monrovia in 1943. She then spent the years of 1945 – 1946 in Chinatown, New York, after which she returned to the Center and pursued a Bachelors of Education at Maryknoll Teachers College. She graduated in 1950, but it appears that before her graduation she was sent to San Juan Capistrano where she stayed until 1951. From there she returned to Los Angeles for the years of 1951- 1957. She then was assigned to Hawaii again and remained there until 1962. During most of these years up until 1962 she taught in both elementary and high school. I remember her speaking of her love for the children. Pictures attest to this and also to a special fondness for little dogs!
Her longest active assignment was in San Francisco from 1962 – 1970 where, as superior and procurator she was a wonderful hostess as she assured the well being of the many Sisters passing through. The core community there was a tight knit group of Maryknoll social workers and she enjoyed that ambience.
In 1970 Sister was assigned to Monrovia where, for nine years she served as bookkeeper and chauffeur. She remained until an illness made necessary her return to the Center on September 23, 1987. From then until her death, she resided in Maryknoll Residential Care and has been a faithful prayer missioner for the country of Chile.
We are most grateful to her many caregivers through the seventeen years she lived on the Fourth Floor. Without doubt she is now their advocate!
We welcome our celebrant, Maryknoll Father George Ratterman, and invite all to join in praising God for the long, caring life of Sister Margaret Virginia Rust. May she be welcomed into the joy of God's presence.