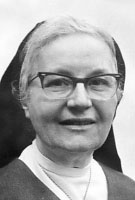 Sister Margretta McRae, MM
Born: March 26, 1909
Entered: October 15, 1928
Died: October 3, 1993
Before the sun rose, sometime between 4 and 5 a.m., on Sunday, October 3rd, Sister Margretta McRae died in our Skilled Nursing Facility. Sister Margretta was 84 years old, and only 12 days short of her 65th anniversary as a Maryknoll Sister.
Margaret Josephine McRae was born in Clermont, Prince Edward Island, Canada on March 26, 1909. She was the fifth of nine children – six girls and 3 boys – born to John Albert McRae and Marion A. Churchill McRae.
The only formal schooling Margaret was to have consisted of 7 years, plus a few months, in Grammar School. When she was 15, the family immigrated to Jamaica Plain, Mass. where she  took a six-month commercial course at the Higgins Business School of Boston. Margaret then worked for the Gilette Company in Boston prior to entering Maryknoll, in 1928, at 19. The year before, together with her mother and five of her siblings, she became a naturalized citizen of the United States.
What drew Margaret Josephine to Maryknoll? No one says it more eloquently than herself when she was interviewed at the time of her Golden Jubilee in 1978: "I accompanied a girlfriend of mine to Maryknoll, chiefly because I thought that she was making a mistake in her choice of a religious community. To my great surprise, however, on our arrival, I was so completely overwhelmed by the Sisters' spirit of joy, generosity and thoughtfulness for others, I knew then that God was asking me to do likewise".
Almost as if telling a joke on herself, Margaret added: "One year later, I entered Maryknoll." Fifty years after the fact, reflecting on her entrance into Maryknoll, she still perceived it as a marvelous surprise up God's sleeve.
After pronouncing her First Vows at Maryknoll, New York on January 6, 1931, Sister Margretta was assigned to work in the Multigraph Department in the Field Afar office. During the 19 years she was there she mastered the art of setting and blocking type as well as the preparation of art works for reproduction.
The disposition Sister Margretta brought to whatever she was asked to do was captured in a recommendation she received when she was preparing for Final Vows on January 6, 1934, here at Maryknoll, New York: "She is ever gracious and willing, never asks to be excused from any duty, no matter how hard."
Consistently, her companions in community described Sister Margretta as prayerful, faithful, thoughtful and gentle, a person in whose wonderful sense of humor everyone delighted.
Although her opportunities for education were limited, she was naturally gifted as a teacher. This was observed and noted in 1948 when she was putting a Catechetics Course to good use in Briarcliff where she worked with upper-grade school girls. In addition to praising her good organization, her Maryknoll Sister supervisor wrote, "The girls respond very well to her evident interest in them." Two years later, in another assessment, she was described as an experienced teacher, one who had no difficulty in handling a class and whose dealing with parents were always good. The closing remark in the assessment may account in large part for her future within Maryknoll: "Think she might make a good superior sometime, someplace?"
Sure enough, from 1950 to 1961, Sister Margretta served the Congregation as Superior in Mountain View, California and then in Houston, Texas followed by Guadalupe, California. In Houston and Guadalupe she also continued her ministry in Catechetics. Prior to her assignment to the West Coast, she'd had a course in Social Work given by Sister Victoria Francis here in our College. She always remembered this course which supplemented her catechetical background, as the most helpful preparation for her work with the people in California and Texas and later, her prison ministry in Bedford Hills, New York.
In 1961, Sister Margretta was re-assigned to the Center to work in Graphic Arts, a department she headed from 1971 until her retirement in 1978. No task was ever too long or too hard. From the serenity with which she did everything, no one would have suspected the extent of her involvement at the New York State Prison for Women in Bedford Hills. "This was one type of work I never expected to do," she said. "I must say, however, that I found it to be the most interesting as well as the most challenging, even more so than my having been Superior in our houses!" Indeed, this is very gratifying for us to hear. We also know how tremendously effective she was in this prison ministry.
In 1984 when Sister Margretta was admitted into the Nursing Home, it was still said of her that she continued to convey a sense of refinement and graciousness.
No appreciation of our Sister Margretta McRae can end without a specific mention of her beatific smile. When she was present, God was present, and it is to this God that we now confide her.
We welcome Father Steve DeMott, our Maryknoll Brother, who will lead us in this Liturgy of the Resurrection.