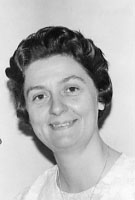 Sister Marguerite Retter, MM
Born: September 3, 1927
Entered: October 5, 1946
Died: April 11, 2009
One of the refrains sung during the Palm Sunday Liturgy, "I wait for God with all of my heart, the presence of God shall set me free" expressed Sister Marguerite Retter's deepest desires. Those desires were realized Holy Saturday morning, April 11, 2009, in the Maryknoll Sisters' Residential Care facility as Sister Marguerite answered the call into God's presence. She was 81 years of age and had been a Maryknoll Sister for 62 years.
Marguerite Anna Retter was born September 3, 1927 to Francis P. and Marguerite (Buehler) Retter, in Philadelphia, Pennsylvania. She had one older brother, Frank.
Marguerite attended St. Columba's Grade School and graduated from John W. Hallahan Catholic Girls' High School in 1945. She worked a year at Bell Telephone Company before entering Maryknoll on October 5, 1946. At Reception she received the religious name Sister Francis Marguerite. She made her First Profession of Vows on April 6, 1949, and her Final Vows three years later on April 6, 1952, at the Motherhouse at Maryknoll, New York. After graduating from Maryknoll Teachers' College with a Bachelor of Education degree in 1952, Sister Marguerite was missioned to Transfiguration Parish in New York City where she taught seventh grade at Transfiguration School until 1957. She was then assigned to St. Anthony's Parish in the Bronx until 1962 and consequently to the mission school at San Juan Capistrano, California. Sister Marguerite was missioned to the Central Pacific Region in 1965 where she taught at Maryknoll Junior High School in Honolulu, until 1980 at which time she returned to the Maryknoll Sisters' Center in New York for Congregational Service. At the Center her services were much appreciated in the Communications and Treasury Departments. After completing her service at the Center in 1985, Sister Marguerite returned to Honolulu, where she taught for two years and later served a wider community by volunteering with adult literacy groups.
By 1992 Sister Marguerite felt she should move to Monrovia, California to retire and serve others through volunteer services there. It was at this time that she took as her special Prayer Ministry, the Maryknoll Sisters' mission in Micronesia.
In 2005 Sister Marguerite's health had begun to decline and she decided it was time to return to the Maryknoll Center in New York.
Shortly before she died, Sister expressed her wish that a letter she had written to her relatives and friends be read at her memorial service. We honor Sister's wish by adding it here to the community's brief Letter of Appreciation. It will give all of us who knew her the thoughts and desires which were deepest in her heart as she approached her final hours. I quote:
"Dear Sisters, Relatives and Friends,
This, my last letter to you, may come unexpectedly. There has been little time for immediate preparation for you and me.
My Christmas letter of 2007 revealed that my illness has recurred and that it would be my last Christmas greeting. Your responses to that letter were many and deeply touched me.
As I reflect on all those who have journeyed with me through the childhood years as well as my sixty plus years in Maryknoll, my heart is filled with loving gratitude for all you have given and meant to me.
As a conclusion I would like to share an excerpt of Meister Eckhart, one of the Medieval Mystics, "If the only prayer one ever says is 'thank you, God' it is enough." To which I say Amen until we meet again.
Fondest Aloha,
SisterMarguerite Retter"
We offer our sincere condolences to Sister's family and friends.
Sister Marguerite has donated her body to science. The Memorial Liturgy for her today will be presided by our Maryknoll brother, Fr. Leo Kennedy. We are happy to welcome him and also friends of Sister Marguerite, as we celebrate her life.