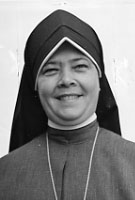 Sister Maria Agnese Dillon, MM
Born: November 5, 1907
Entered: June 4, 1933
Died: November 11, 1991
In a delightful book entitled The Little Prince, Antoine de Saint Exupery reflects on life with these words that characterize Sister Maria Agnese Dillon so aptly:
"It is only with the heart that one sees rightly."
The heart of Agnese was one full of freedom, spontaneity, intuition and a childlike curiosity that led her to explore the world around her. A woman of many talents and varied interests, she could move from one activity to another with great energy and dedication. This unusual ability recalls the Lord's invitation to earlier disciples, "Drop your nets and follow me."
As a follower of Jesus, Agnese adhered to an unwavering discipline for early rising, time for prayer, healthy food and exercise. People responded to her and if Agnese knew you liked something, no amount of time, money or energy would be spared to provide it. Whether teaching, cooking, sewing, praying, fishing or gardening, she entered wholeheartedly into work, play and prayer. Perhaps this freedom to be her unique self was her greatest gift to those to whom she was sent. She was a true disciple of the "Lord of Surprises."
Agnes Beatrice Dillon was born on November 5, 1907 in Hong Kong, and she thoroughly enjoyed her childhood in a large family of brothers and sisters. Her introduction to Maryknoll came through the Maryknoll Fathers in China and she recalled conversing with Father James Anthony Walsh when they traveled to the Philippines on the same ship in 1926.
After a period of teaching in the Philippines and nursing in Seattle, Agnes entered Maryknoll on June 4, 1933 and received the name "Sister Maria Agnese" at the time of her reception. Agnese made her first profession on January 6, 1936, and in that same year was assigned to Hawaii where she served in Maui Children's Home, and at Nuuanu, Waialua,Kaneohe and Lanikai until joining the Senior Region in 1980. When speaking of her ministries she would say, "I've done a little of everything – caring for children, catechists, housekeeping, home visiting and teaching, but the best part of my life was teaching kindergarten." She was an accomplished Montessori teacher and knew well how to use her gifts to affirm young children and teach them how to be confident and happy in the choices they made. Parents valued her ability and were reluctant to have her retire.
For one so full of life, retirement became another adventure and Agnese used her skill in the Montessori method in a new way by participating in the Foster Grandparent Program for mentally-disabled children. Along with this she took on part of the management of the vacation house where she found scope for her talents and hobbies. At the same time a gradual letting go was in process and just before Renewal in 1979 there was indication of an illness just days before Sister was to leave. Disappointment or alarm would have been understandable reactions, but Agnese responded in a way rather typical for her – accept the unexpected and move on. She went ahead with her travel plans, eventually had treatment in California, and continued to be active until the last few days of her life which ended November 11, 1981. She greatly appreciated the love and the concern of her Sisters in Monrovia.
After first accepting the invitation to drop her net and follow, Agnese was able to pick it up again and cast to the right or left just as her Lord directed. The net was filled to overflowing and shared with  others. Like the Risen Lord, who provided a breakfast of fish on the beach and an occasion of forgiveness for Peter, Agnese is lovingly remembered in both these ways – as one who would catch a fish and prepare it for breakfast and, likewise, as one who could forgive and forget, not once but many times over. This life touched others deeply and was, sometimes, misunderstood, but was not easily deterred from fidelity to the vision of a loving Father who blesses his sons and daughters with good things. This is the life celebrated in the Mass of the Resurrection on November 13, 1981 at Monrovia by her brother, Desmond.
Our love and sympathy are extended to Sister Agnese's family and friends who have shared in the fullness of her life.