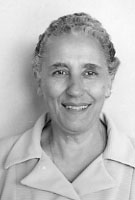 Sister Maria Carmen Fernandez, MM
Born: March 19, 1913
Entered: April 1, 1947
Died: July 14, 1997
As we gather this morning to celebrate the life of our Sr. Maria Carmen Fernandez, we are in awe of the many quiet ways in which she shared her life in mission. Sister Carmen died peacefully on Monday, July 14, 1997, at our Maryknoll Residential Care Facility at the age of eighty-four. Today's responsorial psalm, "As a deer longs for flowing streams, so my soul longs for you O God," offers us a meaningful reflection on Sr. Carmen's fifty years of service as a Maryknoll Sister.
Carmen Albertina Fernandez was born March 19, 1913, in Guatemala City, Guatemala, to Angela Galvez de Fernandez and Ramiro Fernandez. She was one of six children, three brothers and two sisters. At the age of nine, Carmen went to the United States with her family as her father was a member of the Guatemalan Legation to the United States. The Fernandez family lived in Washington, D.C., and New Orleans, Louisiana. Carmen attended primary school in Washington, D.C., and high school in New Orleans. She graduated from Strayer Business College in Washington, D.C., in 1930 and worked as a stenographer for the Universal Credit Company until 1934. The family returned to Guatemala in 1934. Carmen was employed as a secretary for Stahl and Company, a coffee exporting firm in Guatemala City, for the next nine years. In 1945, Carmen decided to return to the United States and found employment in San Francisco as a secretary in a bank.
Carmen became interested in Maryknoll through reading The Field Afar. When asked why she wanted to enter Maryknoll, she wrote, "because Maryknoll has done such wonderful work in my country and in all of Latin America." She entered Maryknoll on April 1, 1947, at Maryknoll, New York, and made her first profession of vows on March 7, 1950. Sister Carmen made her final profession of vows on the same date in 1953 in Merida, Yucatan, Mexico.
Sister Carmen was assigned in 1950 as part of the first group to Merida, Yucatan, where she was instrumental in the founding of the school, Rogers Hall, which is today Colegio Peninsular. She taught typing, shorthand and religion. From 1960-1963, in addition to her teaching responsibilities, she served as local superior. In 1963, Sr. Carmen returned to Guatemala where she worked as a secretary at Colegio Monte Maria. She was assigned to Huehuetenango in 1966 where she served as secretary to Maryknoll Bishop Hugo Gerbermann and later as principal of the school for boys. Returning to Guatemala City in 1970, she went to Colegio Monte Maria where she would spend the next twenty years in ministry, first in the school office and in the primary school library in later years. In 1991, Sr. Carmen returned to Maryknoll for health reasons.
Her co-workers on the faculty of Colegio Monte Maria remember Sr. Carmen with great affection as a generous, joyful person. She had a wonderful sense of humor and would try to remember jokes that she had heard in order to repeat them for the joy of others. The parents of the students who came to the school office always found her ready to listen to their difficulties with great compassion.
In February of 1976, Guatemala suffered a devastating earthquake during which Colegio Monte Maria sustained severe structural damage to some of the buildings including the Sister's residence. Sister Carmen, the adaptable missioner always, maintained her peaceful, loving disposition as she laughingly spent nights sleeping in a car, bathing with water from the garden hose and eating whatever was available.
Sister Carmen is remembered for her lifelong devotion to Mother Mary Joseph. Each morning she would place a different quotation from Mother Mary Joseph on her desk and often refer to it during the course of the day.
Even though Sr. Carmen spent many years of her childhood and young adulthood in the United States, she was extremely proud to be Guatemalan. She took great pleasure in the development of her country and the many members of her family who gave service to Guatemala in a multitude of ways.
We offer our loving condolences to the family and friends of Sr. Carmen.
We welcome our Maryknoll brother, Fr. Bill Mullan, who will celebrate this Liturgy of Resurrection with us as we lovingly remember and give thanks for the gift of Sr. Carmen's life.